Takashi Murakami at the Château de Versailles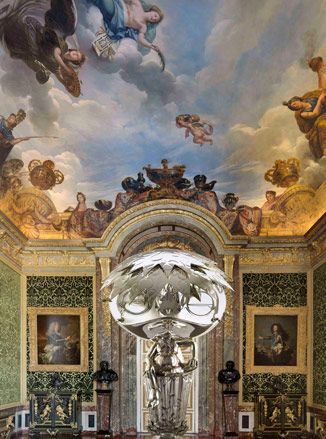 (Image credit: Florian Kleinefenn)
On the surface, pop creations from the worlds of Anime and Manga have little to do with the regal splendor of Versailles. However, as his new retrospective at the château proves, artist Takashi Murakami's Japanese take on comic strip cool can strike up remarkably easy conversation with a 17th century setting.
Murakami's show follows American artist Jeff Koon's acclaimed exhibition at Versailles in 2008. As well as featuring 22 of his major works, dotted around the chateau and its gardens are 11 new pieces created especially for the exhibition.
With his Superflat style - characterized by flat planes of colour and strong graphics -­ these oversized, surrealist sculptures draw on the fantasy of the setting, assembled with typical Japanese precision.
'It is likely that the Versailles of my imagination is one that my mind has exaggerated and transformed until it has become a kind of surreal world of its own,' says Murakami. 'It is this that I have tried to capture in this exhibition.'
The decision to show contemporary artworks at this national site may have been a controversial one, but by harnessing his own impression of Versailles, Murakami's work reflects and plays with its surrounds with surprising fluidity - helped by its glossy surfaces and abundance of ornamentation.
ADDRESS
Château de Versailles
Spectacles Pavillon des Roulettes
Grille du Dragon
78000 Versailles
VIEW GOOGLE MAPS (opens in new tab)