Zaha Hadid experiments with walnut in her final collection for David Gill Gallery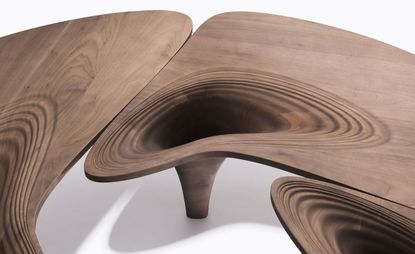 (Image credit: Martin Slivka)
'"UltraStellar" is an appropriate title for the collection because she's looking down from above,' announces Francis Sultana in front of the last Zaha Hadid range for David Gill last week. In a sentimental, but celebratory atmosphere, the creative director, alongside Zaha Hadid director Patrik Schumacher, presented the late dame's impressive range at the gallery's Mayfair space.

Throughout the final range, the starchitect manages to astound yet again, with her first ever works in timber. Displaying a mastery of her extant fluid aesthetic in organic new forms, these wooden piece sit in unison with 'Liquid Glacial' works in acrylic and silver that the designer created for the gallery in the past, resulting in a continuing narrative of her graceful style.

Schumacher guided us through the walnut wares; describing a museum trip in China that introduced the the firm to dexterous timber milling, and the years of work required to achieve the finishes. A stand-out is the symmetrical coffee table, with its ripple effect flowing into the legs; this, together, with the twisting love seat evokes a rigorous mid-century charm. The organic theme continues with the inclusion of stained leather that elegantly extends to the bottom of the intertwining legs of the seating.

Elsewhere, acrylic creeps it way back in, paired with deep walnut in the centrepiece dining table. The 'Liquid Glacial' collection sees additions too, in the forms of an abstract three-legged acrylic console and undulating silver fruit bowl.

The dramatic finish is a colossal chandelier in aluminium and glass. Spreading its spider-web legs across the ceiling, it shines down on the interlaced wood creations.

'She would be very proud of the collections,' muses Sultana. As if we ever doubted it, the Hadid name remains as strong as ever.
INFORMATION
'UltraStellar' is on view until 29 October. For more information, visit the David Gill Gallery website (opens in new tab)
Photography: Martin Slivka
ADDRESS
David Gill Gallery
2–4 King Street
London, SW1Y 6QP
VIEW GOOGLE MAPS (opens in new tab)