Barnaby Barford's well-rounded show bites the forbidden fruit
The British artist's incisive London exhibition at David Gill Gallery presents foreboding musings on contemporary culture, anxiety, and the politics of 'more'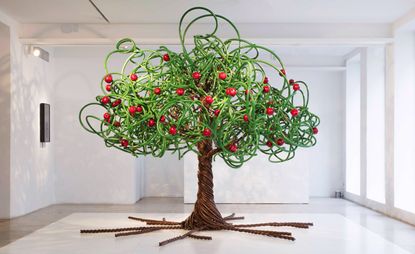 (Image credit: TBC)
Subversive ceramicist Barnaby Barford's work is disarming. Like a visual take on the expression 'comedy equals tragedy plus time', it blends beauty with a gut-punch of humour, and veiled messages of warning. Peel back the wrinkled skin of the comically giant apple at his current David Gill Gallery show, for example, and there's biting ideations on capitalism, anxiety, and consumerism.

Titled 'MORE MORE MORE', the exhibition builds upon the artist's widely celebrated Tower of Babel installation at the Victoria and Albert Museum in 2015, where a stack of bone china shopfronts piled precariously. Each item – a depiction of a real London shop, with Poundland at the bottom and luxury boutiques at the top – was sold individually, in a multilayered comment on art and commerce.

Likewise at David Gill Gallery, a towering apple tree bares bone china fruit, that you can buy individually, and pluck for yourself from a tangle of steel branches, with a satisfying snap. Each apple is scrawled with a word: 'LIES', 'STATUS', 'OUTRAGE', 'GLORY'. You're encouraged, Eve-like, to pick the one that tempts you most. 'The moment you reach to pick the fruit, you're reenacting the downfall of mankind,' Barford tells me under The Apple Tree, biblically falling into the world of more lies, more status, more outrage, more glory.
Barford is obsessive about his chosen subjects, and lives with them – often for months at a time – before actually making anything. When researching Tower of Babel, for instance, he cycled over 1000 miles around London, visiting every postcode, on the hunt for the perfect shops to depict. For this exhibition, he ate an awful lot of apples. As soon as he'd bitten into the subject, so to speak, he realised just how far-reaching apple iconography goes. 'It's Cézanne, Adam and Eve, Steve Jobs, Heracles, and the Judgement of Paris. It's Newton, William Tell, Snow White, The Beatles, and cider. The apple has been used as a symbol of poison, love, beauty, immortality.' In other words, it's 'more' embodied. He spent months on end sketching apples and nothing else.

'In Western culture, we're never satisfied with what we have, no matter how much we begin with,' Barford continues. 'We're in constant competition with our unachievable, anxiety-inducing appetites.' Enter Land of Hope and Glory – the voluptuous green apple that takes up a whole room in the gallery; like a GMO experiment gone wild. The puckered green skin is almost sickly – if you bite into it, it would send your tongue furry. 'It's a metaphor for those in power, and their unscrupulous desire for more. It's pompous and patriotic.'
'My whole life I've lived under this system that rewards competition,' he continues. 'It could reward empathy and community, but it doesn't. It rewards risk takers and competitors. And that's why we are as anxious as we are, as a society.'

The exhibition also includes paintings: great, assaulting works that echo protest art; angrily scrawled with 'more' ad infinitum over a backdrop of scarred apple husks. Elsewhere, charcoal drawings of apples with short stems look like bombs about to blow. And don't miss the quiet pièce de résistance at the back of the room – an hour long time-lapse film of an ageing apple (shot over a period of months in Barford's east London studio) with 'MORE' carved into its flesh; slowing eating it from the inside.

The phrase 'MORE MORE MORE' could invoke images of a spoiled child pounding its fists into the floor. Or, it could be seen as a rallying cry: a riotous demand for change and action. Which one? Barford encourages you to pick for yourself.
INFORMATION

'MORE MORE MORE' is on view until 22 June 2019. For more information, visit the David Gill Gallery website (opens in new tab)
ADDRESS
2-4 King St
St. James's
London SW1Y 6QP
VIEW GOOGLE MAPS (opens in new tab)
Elly Parsons is the Digital Editor of Wallpaper*, where she oversees Wallpaper.com and its social platforms. She has been with the brand since 2015 in various roles, spending time as digital writer – specialising in art, technology and contemporary culture – and as deputy digital editor. She was shortlisted for a PPA Award in 2017, has written extensively for many publications, and has contributed to three books. She is a guest lecturer in digital journalism at Goldsmiths University, London, where she also holds a masters degree in creative writing. Now, her main areas of expertise include content strategy, audience engagement, and social media.