Maria Pergay 'Iconic' retrospective opens at David Gill Gallery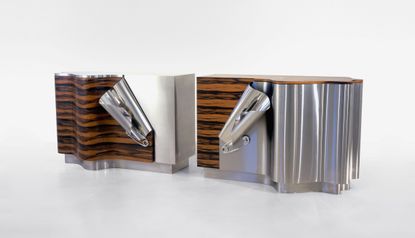 (Image credit: TBC)
In the annals of 20th-century design, the most prominent and widely-known works tend to be created by men, with just a few exceptions. Maria Pergay's work is one of these, having exploded onto a male-dominated design scene in the 1970s with her pioneering stainless steel furniture. A back catalogue of the Romanian-born, France-based designer is currently the subject of a retrospective show, named 'Iconic', at David Gill Gallery.

The pieces on show span six decades, charting Pergay's work from the 1960s up to the hand-sculpted bronze, stainless steel and inlaid chestnut wood 'Marronnier table' produced in 2015. The exhibition seeks to demonstrate Pergay's ability to transform stainless steel, a material perceived as industrial and cold, into flexible and supple forms.

Having emigrated to France from Moldova during the war at the age of seven, Pergay (who still works today at the age of 87), the studied at Paris's Institut des Hautes Études Cinématographiques (IDHEC) where she specialised in costume and set design. At the same time, she attended the Académie de la Grande Chaumière – an art school in the bohemian Montparnasse district of Paris.
She began her career creating ornate metal elements for window displays, which led to experiments with silver and the production of a complete collection of contemporary pieces in the late 1950s. It was these silver objects that set the tone for her boundary-breaking work in stainless steel furniture, the first pieces of which were developed in 1967 with the well known 'Flying Carpet Daybed' making its debut in 1968.
Pergay, who has never belonged to a distinct design movement, is a mother of four with no formal training in furniture design or external financial support. Instead of following trends, she has consistently drawn inspiration from antiquity, Japanese art, and the innate nature of the materials she works with. While this individual approach may have meant that many of her pieces did not receive recognition until years after they were created, it has ensured that her work has stood the test of time.

'Stainless steel does not forgive,' says Pergay of her material of choice. 'It has authority, and it helps me not to make errors. But it also shines and glows; it hints at greater things.'
Over the years, Pergay has continued to create for her own pleasure, exhibiting and selling to clients and quietly obtaining impressive private commissions for names such as Givenchy, the Shah of Iran, Pierre Cardin, Fendi, Christian Dior, Jacques Heim and Salvador Dalí. Today her work can be found in the permanent collection of the Metropolitan Museum of Art, New York, and is displayed in private collections around the world.

Pergay is by no means the first French designer that Gill has recognised with a solo show – his collaboration with Line Vautrin brought her international acclaim, culminating in the 1999 ground-breaking exhibition at the Musée des Arts Decoratifs in Paris.

Gill hopes that Iconic will bring Pergay the recognition that she deserves, but has not always received on this side of the pond. 'Synonymous with French postwar furniture design, on the international stage Pergay has been very well-received in the United States with a solo show in New York in 2006,' said the gallery. 'It only seems fitting that her work in design is lauded in London by David Gill with this inaugural exhibition.'
INFORMATION
'Iconic' is on view until 21 December at David Gill Gallery. For more information, visit the David Gill Gallery website
ADDRESS
David Gill Gallery
2-4 King Street
London
SW1Y 6QP
VIEW GOOGLE MAPS (opens in new tab)