Sophomore star: an ambitious Dubai Design Week doubles in size for its second edition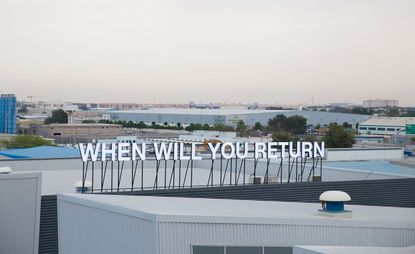 (Image credit: Mary Ellen Carroll)
Dubai Design Week doubled its dose of culture in the capital for its second ever showing. Featured in Al Quoz's Alserkal Avenue was 'Circle Game,' a multi-form work by Mary Ellen Carroll of two vast LED signs posing questions that are often asked among the city's transient population: 'When did you arrive?' and 'When will you return?'
Last year, Dubai set out to join the ranks of the world's greatest design cities with the launch of its very own design week. Centred on a brand new, sprawling 15.5 million sq ft design district (d3) – currently part way through the second leg of its three-stage development – the week promised to establish the city as a creative capital for the Middle East, North Africa and beyond.

Now in its second year, Dubai Design Week has doubled in size expanding upon some of the successful exhibition formats from last year, such as a series of pavilions designed by six different MENASA-region countries, the world's largest Global Grad Show and an international trade fair. In addition, the show introduced some ambitious new projects, the biggest of which was the outline for a new private, non-profit design school.

Named DIDI (Dubai Institute of Design and Innovation), the school is set to open in Autumn 2018 with a studio-centric curriculum put together by Massachusetts Institute of Technology (MIT), and The New School at Parsons School of Design. At last week's announcement, a scale model of the school's proposed AED 270 million campus designed by Foster + Partners was revealed in the lobby of Dubai Design Week's Global Grad Show.

Design March Reykjavik displayed '1+1+1' – an experimental series of candlesticks made by designers from three Nordic countries: Hugdetta from Iceland, Petra Lilja from Sweden and Aalto + Aalto from Finland

The new design, built around a soaring central atrium that will encourage collaboration between departments, is spread over 100,000 sq ft with the capacity to accommodate 550 students, both local and international. 'The curriculum fuses design with innovation, offering an engaging, non-traditional, consultation structure,' said Dubai Holding CEO Fadel Al Ali, who will head the institute's board of directors. 'We are confident that this unique teaching approach will position Dubai as a global capital of design.'

Elsewhere, the Design Week was keen to underscore its ability to attract global talents, announcing that architecture firms Santiago Calatrava, Zaha Hadid Architects, Foster + Partners and Benoy will all open offices in the Design District this year. 'We currently have over 30 architectural practices located at d3,' explained Mohammad Saeed Al Shehhi, d3's chief operating officer, 'but we are dedicated to ensuring that each and every brand that joins us – ranging from small design start-ups to iconic global brands – are part of a fully-fledged creative community that sits at the heart of our architectural design scene.'

Fadi Sarieddine's 'Dubai Syndrome' street furniture is made from rebars and concrete

With over 350 creative partners already based in the expanding district, the local design community is hopeful that the developments of the last few years are set to continue. 'A couple of years ago we only had an art scene, today we have both an art and a design scene, which I think will just keep expanding after this point,' says Emirati designer Zeinab Al Hashemi, who worked on a public art installation with Swarovski for this year's event. 'There is a momentum now and everyone is excited about it.'
In the centre of the design district, a glittering Swarovski crystal-encrusted public art installation by Emirati designer Zeinab Al Hashemi took centre stage. Titled Hexalite, the 1.5m high and 3m wide installation is composed of 33 hexagonal mirrored-steel structures with 1,145 Swarovski crystals and mirrored prisms
Mounted horizontally, the structures invite passers by to take a closer look through the installation like a kaleidoscope as the crystals reflect and refract the multicoloured light. 'I like to create interactions within my public art and engage the audience so that they leave with a different experience than they would if they were just looking from a distance,' Al Hashemi told us
In the centre of the city, the Burj Khalifa tower was lit up with a series of animated designs created by two regional design studios, Studio Mr White and Yusuke Murakami + Tangent. The light show, which took place every evening throughout Design Week, saw the tower enveloped in coloured bubbles of light, neo-cubist shapes, crystals, deep sea creatures, mountains, stars and city lights to name just a few
Dubai chocolate brand Mirzam chocolate invited visitors into its Al Quoz factory for the launch of its first Mirzam design series. Working in collaboration with Emirati designer and photographer Sheikha Wafa Hasher Al Maktoum, Mirzam has created a spice route-inspired chocolate bar recipe with accompanying packaging designs that feature celestial galaxies, historical monsters and maps
INFORMATION
Dubai Design Week ran from 24–29 October. For more information, visit the Dubai Design Week website
Receive our daily digest of inspiration, escapism and design stories from around the world direct to your inbox