Installation SUPER LIMBO activates the empty building site of Sharjah Mall
SUPER LIMBO installation by Limbo Accra and Ivorian textile brand Super Yaya uses weaving methods to activate the paused building site of Sharjah Mall during Sharjah Architecture Triennial 2023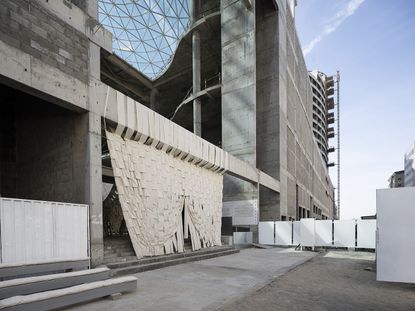 (Image credit: Danko Stjepanovic)
SUPER LIMBO sits inside the unfinished Sharjah Mall, a cavernous, concrete complex of 64,753 sq m that's left paused mid-way through construction, looming large over the UAE's Sharjah. A striking contrast to the otherwise developed cityscape, the structure bears a totemic quality, a modern-day relic increasingly endemic to fast-industrialising spaces.
Taking on Sharjah Architecture Triennial 2023's (SAT) theme, 'The Beauty of Impermanence: An Architecture of Adaptability', the new installation is the contemplative response by Dominique Petit-Frère and Emil Grip of Ghanaian spatial design studio Limbo Accra and Rym Beydoun, founder of Ivorian textile brand Super Yaya, with technical architectural support from multidisciplinary artist and architect Anne-Lise Agoosa. 'As SUPER LIMBO emerges in the heart of Sharjah Mall, it seeks to provoke thought, inspire imagination, and evoke a collective reimagining of what once stood and what may yet come to be,' the team says.
SUPER LIMBO installation opens at Sharjah Architecture Triennial 2023
'Drawing on the significance of storytelling in desert cultures spanning West Africa to the Middle East, and its ability to invoke imagery, our pavilion is both soft yet impactful,' say SUPER LIMBO's authors. Initial field research by Limbo Accra led the team to the seemingly deserted Sharjah Mall, often leaving their taxi drivers both bemused and intrigued on their many visits. Upon further investigation, they found the structure was not entirely abandoned, but rather 'in a long wait to capitalise its real estate potential.'
Combining Beydoun's material sensitivity and Limbo and Agoosa's space-making practice, the team devised a pavilion of intricately woven calico cotton, draped between the mammoth structure's vast voids. The design was inspired by the 'cascade of construction fabric enveloping yet-to-be-completed structures, signalling their transitional phases.' Clear on their intentions to reflect on potential rather than shortcomings, the team said: 'It is within this labyrinth of liminality that SUPER LIMBO emerges, aiming to reshape the narrative of this space.'
Celebrating intercontinental creation and collaboration
Preparation for SAT 2023 began over the past year, developed through a series of frequent calls, sometimes between New York and Berlin, Copenhagen and Accra, or Beirut and Abidjan, tirelessly teasing out ideas, and eventually landing on SUPER LIMBO's final form. 'SUPER' is a nod to both the textile brand involved, but also the unprecedented scale of the project. After months of prototyping in Super Yaya's studio, collaborations with a Pakistan-based NGO saw a cooperative of twenty women weave together the principle fabric 'curtains'.
'The sample I made at the studio was on a window [...] we really loved how light reflected with it,' explains Beydoun. The final woven fabric design intentionally interacts with the abundant natural light in Sharjah, casting dramatic shadows in the space. Together with a photo exhibition and a display of Limbo Accra's digital archive, visitors are encouraged to enter, touch and partake in this 'world-building exercise'. Working closely with site managers and SAT teams, strict safety parameters were introduced, which simultaneously restrict and contribute to the installation.
Inspiring new practices and legacy
Opening in 11 November 2023, during the Sharjah triennial's inaugural weekend and coinciding with Dubai Design Week, SUPER LIMBO was visited by design enthusiasts and local communities alike. An opening panel discussion led by Petit-Frère, with Sharjah-based, Palestinian architect Sara Bokr, Egyptian architect Reem Khorshid, a key contributor to the publication 'Building Sharjah,' and Nigerian curator Oyindamola Fakeye, laid the foundations for conversations on the practice of transforming unfinished spaces for the creative arts.
Recognising the impermanence of the installation, which will remain open until March 2024, the SUPER LIMBO team stress how, beyond the triennial, 'the pavilion's spatial software, entwined with its narrative, will live on and be repurposed'. The team said: 'After the Triennale, Limbo Accra will repurpose the fabric into apparel, accessories, or upholstery together with the Super Yaya brand. This offers individuals an intimate experience as they take home pieces woven with the essence of our pavilion's journey.'
SUPER LIMBO is a thought-through, timely and transformative installation by the formidable forces of Limbo Accra and Super Yaya, that pushes for a greater collective consciousness on liminality, calling for visitors to ponder on the potential futures and legacies of both materials and spaces.
Receive our daily digest of inspiration, escapism and design stories from around the world direct to your inbox
Nana Ama Owusu-Ansah is a writer and photographer from London. She first wrote for Wallpaper* in 2021, in a series on the new vanguard of African designers practising in Africa and its diaspora. She is drawn to projects centring on decolonial approaches to art, architecture, as well as community and sustainability. Nana Ama read Economics and Spanish at University of St Andrews, and, as an avid linguist, is passionate about using accessible language to invite new audiences to engage in design discourse.