Louvre Abu Dhabi Residences to elevate art of living in UAE
A new development of 400 exclusive residences will offer the chance to live alongside the iconic Louvre Abu Dhabi in the heart of the UAE's Saadiyat Island Cultural District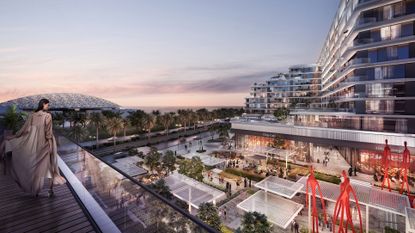 (Image credit: Jean Nouvel)
Wallpaper* Newsletter
Receive our daily digest of inspiration, escapism and design stories from around the world direct to your inbox
Thank you for signing up to Wallpaper. You will receive a verification email shortly.
There was a problem. Please refresh the page and try again.
In partnership with aldar.com
The domed aluminium roof and white concrete cubes of the Jean Nouvel-designed Louvre Abu Dhabi shimmer like a visiting spacecraft on the horizon. The architect's desire to create a 'total design', a geometric structure and fluid, town-like environment that can never be seen in the same light twice is achieved with every shift in weather as well as the rising and setting of the sun. Now, the new Louvre Abu Dhabi Residences will offer the chance to live in close proximity to the iconic museum.
Aldar Properties, one of the UAE's largest real estate development and asset management companies, working in partnership with Louvre Abu Dhabi, announced plans to develop the only branded residential complex in the world to carry the museum's name. Scheduled for debut in early 2025 featuring distinct views, designs, spaces, amenities, and services, Louvre Abu Dhabi Residences will be located in the heart of Abu Dhabi's Cultural District on Saadiyat Island, the highly anticipated Sadiyaat Grove – which is set to span an impressive area of 242,000 sq m.
Life amid Saadiyat Island's cultural hub
Bringing together different cultures through ancient and contemporary works of historical, artistic and sociological interest from around the world, Louvre Abu Dhabi's opening in 2017 marked it as the Arab world's first universal museum and a landmark cultural institution.
The museum's spectacular Saadiyat Island location – currently in the second phase of its ambitious, £20bn, 15-year-long development journey – is rapidly growing into a vibrant cultural hub home to five major museums, an art and culture centre as well as a performing arts centre.
Soon joining Nouvel's ingenious Louvre Abu Dhabi will be iconic cultural landmarks such as Guggenheim Abu Dhabi, Zayed National Museum, Abrahamic Family House, and the much-anticipated Natural History Museum Abu Dhabi; all contributing to a smart-growth project designed to encourage artistic exchange and creative expression for the whole region.
Saadiyat Cultural District is also a wonderful place to live and work. Nestled in the midst of all its cultural and architectural splendour is Saadiyat Grove, comprising immersive retail, entertainment and leisure spaces, as well as approximately 3,000 residential units, two hotels, and grade-A office and co-working spaces for new enterprises and start-ups. Louvre Abu Dhabi Residences will be the latest addition.
Louvre Abu Dhabi Residences in Saadiyat Grove
Louvre Abu Dhabi Residences will feature 400 properties – spanning studios, one-, two- and three-bedroom apartments and five exclusive penthouses. The development will also offer a residents-only lounge, a 12-seater private cinema and a world-class wellness centre with a gym and sauna rooms, multi-use spaces for yoga and meditation. From its elevated swimming pools, sunset deck and gardens, residents will enjoy uninterrupted views of Louvre Abu Dhabi and the city's skyline.
Meticulously designed for distinction and sophistication, every apartment at Louvre Abu Dhabi Residences will be finished with interior fittings and fixtures and built-in home appliances from world-renowned brands. The residential experience will be elevated by five-star services including a concierge to organise private fine dining, for example, as well as professional housekeeping, personal styling, personal shopping, pet-sitting and dog-walking.
Alongside artistic and architectural marvels, Abu Dhabi's Saadiyat Island will now be home to a new residential wonder.
Abu Dhabi: a viable investment market for all
To continually enable sustained economic development, the UAE government diversified its economy, developing tourism, manufacturing, and industrial sectors, creating an investor-friendly environment and multiplying revenue streams. Real estate freehold zones and a flexible taxation system offer value for investors and homebuyers from around the world.
Based on the category of their investment, real estate investors can also benefit by qualifying for the UAE Golden Visa – a long-term residency system introduced in 2019 that enables foreigners to live, work and study in the UAE, without the need of a national sponsor. In addition, five to ten-year Golden Visa holders can now enjoy special benefits such as discounts on housing, healthcare, hospitality, automotive and banking in Abu Dhabi.
Abu Dhabi was ranked as the safest city in the world for the sixth consecutive year (Numbeo Safety Index 2022), and recognised as the most liveable city in the Middle East for the second year in a row (The Economist Intelligence Unit 2021).
INFORMATION
Sales at Louvre Abu Dhabi Residences are limited to select units. Clients may express their interest by registering on aldar.com or via Aldar's sales centre (tel: +971 2 810 6400 or email: customermanagement@aldar.com)
Receive our daily digest of inspiration, escapism and design stories from around the world direct to your inbox