Oberoi Beach Resort, Al-Zorah by Piero Lissoni is an understated UAE gem
The Oberoi Beach Resort, Al-Zorah by Piero Lissoni offers beach breaks and contemporary design in the UAE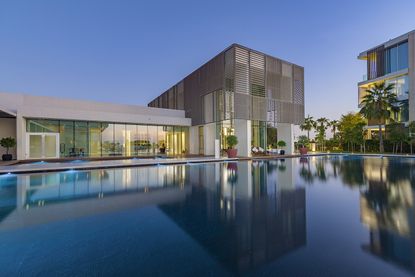 (Image credit: Oberoi Beach Resort, Al-Zorah)
When it comes to luxury resorts in the United Arab Emirates, Dubai and Abu Dhabi may grab the lion's share of the headlines, but insiders know that there are serious contenders aplenty to be found nearby. Exhibit A is the emirate of Ajman – a brisk 40-minute drive from Dubai, but a world apart from the madding crowd. Here, on a sprawling 247-acre estate framed by long stretches of beach and mangroves, the Oberoi Beach Resort, Al-Zorah is a handsome 89-room pasha's retreat of white stone, timber and glass – the first and, by UAE standards, tiny salvo in the hotel group's grander plans for the region.

Oberoi Beach Resort, Al-Zorah by Piero Lissoni
Rather than dominate the horizon with towering bulks, the Italian architect Piero Lissoni strung three low-slung volumes containing rooms, restaurants, a library and a yoga pavilion along the beach, their windows and perspectives oriented towards a winning trifecta of bone-white sand, Arabian Gulf and blue-domed sky.
Lissoni says the project's greatest challenge was presented by Ajman's extreme weather, which has had a profound influence on the local architecture. This explains why, for the Oberoi resort, he and his team worked hard 'to limit the density of the built space, seeking to keep the volumes low and to just one level where appropriate. This is the first hotel we built in the area, so there was no existing infrastructure and very few points of reference. Integral to this approach was the active integration of the surrounding landscape of trees and greenery.'
Meanwhile, the interiors of the resort bear all the hallmarks of Lissoni's predisposition towards a tasteful mix of textures, colours and touchstones, not least in his use of traditional materials, which are counterpointed by customised furniture alongside the occasional antique and objet trouvé.
No stranger to creating bijoux havens in difficult settings – his 2021 Shangri-La Shougang Park in Beijing comes to mind – Lissoni says he likes 'the fact that we were able to realise an oasis whose silent architecture respects the setting of sea, saltwater lakes, mangrove forests and desert. We did not want these buildings to become barriers, attempting instead to create something that expressed a human scale. Each building dialogues in some way with the realities of water and nature.'
And if none of that impresses, there's always the Jack Nicklaus-designed golf course.
Daven Wu is the Singapore Editor at Wallpaper*. A former corporate lawyer, he has been covering Singapore and the neighbouring South-East Asian region since 1999, writing extensively about architecture, design, and travel for both the magazine and website. He is also the City Editor for the Phaidon Wallpaper* City Guide to Singapore.
You might also like
Architects Directory alumni: Residence 22 by Dxb.lab

The Wallpaper* Architects Directory has turned 20. Conceived in 2000 as our index of emerging architectural talent, this annual listing of promising practices, has, over the years, spanned styles and continents; yet always championing the best and most exciting young studios and showcasing inspiring work with an emphasis on the residential realm. To mark the occasion, this summer, we are looking back at some of our over-500 alumni, to catch up about life and work since their participation and exclusively launch some of their latest completions. Dubai based Dxb.lab was first featured in Wallpaper* in the 2007 Architects Directory. Since then, the studio and its director, Khalid Al Najjar, have been going from strength to strength, completing a variety of projects of all scales and typologies; here we visit their latest housing scheme, Residence 22, in the city's Business Bay.

By Ellie Stathaki • Last updated
View More ▸