Draga & Aurel remaster light with vivid resin in Milan
A collection primarily made in resin, 'Transparency Matters' by duo Aurel Basedow and Draga Obradovic is on show during Salone del Mobile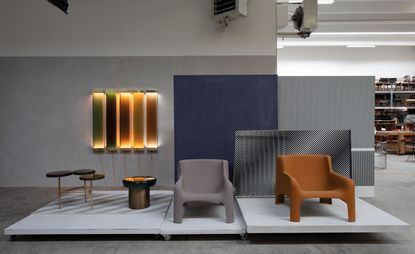 (Image credit: Photography: Allegra Martin)
'Everything we do is filtered through our own sensitivity,' says designer Draga Obradovic as she lifts a pocketbook-sized slab of tinted resin up to the window of her Como-based atelier. Squinting through its transparent form to determine exactly how light will pass through, she explains that 'the colours need exactly to match what we envisioned'.
Obradovic shares the space with her partner in life and work, Aurel Basedow. And the duo, collectively Draga & Aurel, have been poring over these colours for almost a year now, experimenting with resin and glass in preparation for their first solo presentation during Salone del Mobile in a decade. The pair first became known for clever interventions with vintage furniture, and innovative textile treatments that have featured in collaborations with the likes of leather manufacturer Baxter and wallpaper brand Wall & Decò since 2008.

'I particularly love all the research they do on materials,' says Paolo Bestetti, CEO of Baxter, which is also presenting a collection of Draga & Aurel's work in Milan. 'You can really feel their constant desire to experiment.'
The designers both arrived in Florence in the 1980s – Obradovic from the Serbian town of Cacak and Basedow from Munich's peripheries – to study art at the Accademia di Belle Arti. They eventually moved north to Como, where Basedow commuted daily to Milan to finish his studies and Obradovic designed textiles for the town's then-booming fabric industry. For a while, life was sweet. Basedow got a job teaching art and music in a local school, while Obradovic continued to dream up fabric patterns for Milan's catwalks.

They took out a mortgage and had a daughter. But around 2003, a cloud descended over their existence. 'I couldn't do it anymore,' Obradovic remembers. 'I used to be so passionate about my work, but I just got exhausted. I thought I would never do anything creative again.' She quit her job and spiralled into depression. The feeling of malaise was seemingly infectious – as Basedow quit soon after.
After a year off, Obradovic eventually produced a small collection of soft furnishings to sell, hand-finishing fabrics in the couple's garage. Buoyed by the positive response, she moved onto bigger projects: upholstering and reworking second-hand furniture sourced from local thrift shops. Basedow, who had trained as a carpenter in his native Germany, was soon enlisted to help. 'People were crazy about the stuff,' says Obradovic. The duo's innovative approach soon caught the eye of manufacturers. 'I am fascinated by their ability to interpret materials and fabrics through various processes and layers,' says Christian Benini, founder of Wall & Decò. 'Draga and Aurel are hypercreative and proactive, so we tuned in very quickly.'

For their 2019 Milan presentation, entitled 'Transparency Matters' – a nod to both the nature of their materials and their outlook – the duo have pushed beyond vintage and textiles. Resin, the collection's primary material, was chosen for its versatility in colour and opacity.
Included in the collection will be cast-bronze tables featuring resin tops in soft mineral shades of jade, amber and amethyst, their staggered placement inspired by clusters of wildflowers. There are tall cast-glass wall lights, their tones the result of melting together three different shades of tinted glass. A slip of coloured resin was inserted directly over the light source, further manipulating its hue. Cast-resin screens will delineate the exhibition space, their unevenly saturated shading the product of a week-long, three-stage process. Deep-seated 'Gaia' chairs (designed by Carlo Bartoli for Arflex in 1965) have been coated in a matte paint resembling soft-touch velvet. There are also plans to add outdoor furniture, writing desks, bookshelves and further lighting projects to the collection in time for this year's presentation, and the entire collection will be available to order.

The pair cite minimalist artists such as Dan Flavin and Donald Judd as references, not so much for their treatment of forms, though the influence is apparent, but rather for their approach to material exploration and craft. 'Their work is very connected to what we are doing,' says Obradovic. 'We are nourished by these artists.' To complement the furniture, Basedow has created a series of large-scale paintings from resin and found imagery.
When asked about the bumpy ride that led to their current success, the pair remain serene. Says Basedow, 'We really don't leave out any of our old experiences, we put everything into our work.'

As originally featured in the May 2019 issue of Wallpaper* (W*242)
INFORMATION
'Transparency Matters' is on view from 9-14 April at H+. The 'Heritage' collection is on view from 9-14 April at Baxter Cinema. For more information, visit the Draga & Aurel website (opens in new tab), the H+ website (opens in new tab), and the Baxter Cinema website (opens in new tab)
ADDRESS
H+
via Varese 12
Milan
Baxter Cinema
Largo Augusto 1
Milan
Laura May Todd is a Canadian-born, Milan-based journalist covering design, architecture and style. In addition to the Italian dispatches she writes for Wallpaper*, she regularly contributes to a range of international publications, including T: The New York Times Style Magazine, Architectural Digest, Elle Decor, Azure and Sight Unseen. Prior to her work as a journalist, she was assistant editor at London-based publishing house Phaidon Press.