Lemon studio grows with new creative emporium in Cape Town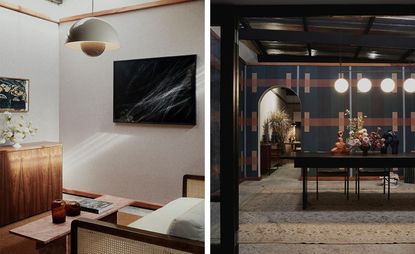 (Image credit: lemoncollection)
Multidisciplinary design studio Lemon has expanded its Johannesburg-based business to open a new showroom in Cape Town's coastal Seapoint district. The fresh space reflects the brand's evolution – it originated with wallpaper and prints, and now offers furniture and art.

Lemon is the brainchild of brothers Kevin and Ricky Frankental, who launched the product and graphic design studio in 2007. This new Cape Town space provides a centralised drawing board for Lemon's design processes, and is a coastal creative hub for the company. The pair were drawn to a slower, residential spot in the bustling district for their vision. 'The idea was to design somewhere that people would come to purposefully, rather than as a result of merely passing by,' the team explain.
'Since we started Lemon over a decade ago, who we are and what we do has evolved and grown,' says Kevin Frankental. 'Despite having been in business for some years, in many ways we feel we're just getting started.' Among the in-house designs including the Vondel marble coffee table and timber Winston sideboard, Lemon also distributes Danish brands &Tradition and Menu. Lemon's edit comprises earthy tones, graphic prints and eclectic surfaces which echo the team's broad skillset and experimentation – the studio has a unique make up of illustrators, artists, photographers and designers.
RELATED STORY
'Being able to offer a full spectrum of products means that we can contribute to creating whole environments that speak to living and working well,' explains Frankental. 'By displaying our designs this way, people can imagine living with and around them – they can envision how they'd fit into their lives.'
INFORMATION