Deem Journal: how can design add value to communities?
Founded by Nu Goteh, Alice Grandoit-Šutka and Marquise Stillwell, LA-based publication Deem Journal promotes design as an inclusive and empowering tool for all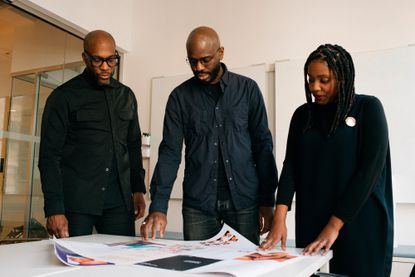 (Image credit: Guarionex Rodriguez Jr)
Despite naysayers calling time on print, a bi-annual journal launched during the pandemic is defying convention by thriving in an increasingly digital media landscape. Deem Journal is a Los Angeles-based print publication and online platform, dedicated to disrupting the design canon as we've known it. Launched by Nu Goteh, Alice Grandoit-Šutka and Marquise Stillwell in spring 2020, its credo is to establish design as a social practice, ask what design can do for communities, and create intergenerational and transdisciplinary conversations. In doing so, Deem hopes to uncover meaningful narratives, connections and patterns that can help us better understand our histories, and imagine a collective future.
It's an ambitious ask for the trio, who have pursued design-adjacent professions rather than working primarily in design themselves. However, in accordance with Deem's belief that design is everywhere, their combined lived experiences leave them well placed to challenge the design industry's traditional focus on aesthetics and output.
Deem Journal: highlighting the process of design
Deem came about when design strategist and cultural innovator Goteh sought to make more of an impact with his longtime friend Grandoit-Šutka, a publisher and editor. 'Alice and I have been collaborators and best friends in our past life in marketing [at Red Bull] and, as both of us became very disenchanted with that world, we began looking for opportunities to engage in a more meaningful way with the community that we're part of,' he says. Goteh now serves as Deem's creative director while Grandoit-Šutka is its editorial director. Together, they also run Room for Magic, a strategy and design studio functioning at the intersection of culture, community and commerce.
'When I was in grad school at Parsons, I stumbled upon a panel discussion that Marquise was part of,' says Goteh. Stillwell, a documentary film producer, is the founder of the New York-based design studio and consultancy Openbox. 'We forged a relationship that led to me becoming a fellow at Openbox. That time was very formative in terms of my understanding of what design could be. When Alice and I came together to start Room for Magic, Marquise proposed starting a publication, so we came together to create what is now Deem.'
Deem celebrates design's diverse and process-oriented methodologies for all their subjectiveness and uniqueness. The journal is established upon the notion that design is fundamentally a shared experience that adds value to communities. Presenting it as such not only gives weight to the discipline beyond the surface level, it also enables non-traditional designers to identify with the field. Says Goteh, 'We started off trying to understand design by looking at different practitioners operating in a transdisciplinary way, in order to reframe what design could be. That evolved into us realising that actually, the issue isn't just people being boxed in. The bigger issue is people being boxed out of design.
'What we started to see is that design is in love with outputs and objects. Those objects are usually gauged by a level of fidelity, and fidelity is related to resources and capital. We wanted to focus on what starts to happen when you look at design in its truest form, which is a process and one that adds value. This approach is much more inclusive, much more dynamic, and it can empower people because the process of adding value isn't limited to just designers. So many people who are adjacent to design, or even sit outside design, actually participate in that every day. Highlighting the process of design enables us to bring in more voices, more perspectives, and have more intentionality in terms of the stories we tell and the way we tell them.' Adds Grandoit-Šutka, 'It was really important to start to build a more dynamic field of inclusion around design, if we wanted to sustain our practices. It's why we choose to speak with the people that we do.'
'This idea of design as a moment of adding value is so important,' says Stillwell. 'The challenge is when we talk about who actually owns that, who are the gatekeepers of design. Unfortunately, when we look at the history of design – the more industrial practice of design, where designers are creating repeated outputs and those are measured through an economic lens – that automatically limited the number of individuals who could get involved. Design now is at a place where we've actually limited the true fidelity of output by limiting the process and people who are part of that journey.'
Advocating for diversity
Deem challenges this limited notion of design by advocating for more diverse design teams. He adds, 'You can't design for women without having women be part of the process. You need to have them as part of the team and as a part of the process.'
With three issues under its belt, and a fourth launching later this year, Deem has quickly become a lauded resource for design insiders and outsiders alike. Issues are structured around a theme and hold little back. The debut issue focused on 'Designing for Dignity', its follow-up centred on 'Pedagogy for a New World', and the third was all about 'Envisioning Equity'. Each instalment has dived into where the disparities within the creative fields lie and how practitioners of all ages, creeds, genders and backgrounds are championing a way forward. In May, the publication was honoured by the New York chapter of the American Institute of Architects with the inaugural New Perspectives Award, which celebrates the contribution of individuals or collectives in developing a broader understanding of architecture through their unique, critical positions.
Choosing to create a printed publication was simply about 'evidence', says Stillwell, who was previously involved with Make/Shift, an independent publication that documented contemporary feminist culture. 'It's about having something tangible, to keep close and feel. We've become so digital that we can click and keep moving, and I wanted to make sure this was something to keep coming back to.' Adds Grandoit-Šutka, 'I believe the way a publication can hold your attention can orient you to really sit with the material and integrate it into your way of thinking.'
Many of Deem's pieces are presented as conversations and interviews, which let the subjects' words and voices speak for themselves. It's a reflection of the research-driven practices of all three co-founders. The themes are also intentionally open and expansive. 'Allowing everyone to make sense of the material in their own way is especially important in design, which tends to be quite prescriptive,' says Grandoit-Šutka.
In line with Deem's objective to liberate the field of design, there's a freedom in the visual treatment of each issue. 'Deem can sometimes come across as an academic journal, but we're trying to create a spectrum of structure and energy,' says Goteh. 'There are some very structured pieces that go across six pages, blocks of text. But on the other end, there are moments of energy, fun and vibrancy that we feel is needed to entice and bring anybody into this conversation, because Deem is not just for practitioners. There is a level of progression and pushing from a visual standpoint that brings energy, particularly in our documentary-style photography, to produce a moment of comfort and authenticity.'
Within its pages, Deem dexterously mixes interviews and profiles of designers, artists and collectives with more in-depth essays about cultural movements, historical paradigms and the creative status quo to unpeel the layers surrounding topics, such as gender, neurodiversity, race, politics and technology. From the journal's inaugural cover story – a conversation with writer and activist Adrienne Maree Brown about her 2019 book, Pleasure Activism: The Politics of Feeling Good – to exploring the meaning of reconstruction in architecture, and the relationship between equity and reparation, with the Black Reconstruction Collective in issue three, there is an arresting candour and honesty that emerges. Forward-thinking, analytical and compelling, each issue serves as a beacon for how the creative community can move forward as a more informed and unified whole together.
Stillwell concludes: 'When we saw an opportunity that our voices weren't being represented, we wanted to design our way through, and create better conditions for others to be part of that journey.' Adds Goteh, 'Our perspective isn't a perspective of expertise. We're not telling you what design should be. Really, every theme is a prompt and a question we are asking ourselves. The magic is surveying different perspectives that can add to a list of values and strategies to move this dialogue forward.'
INFORMATION
A version of this article appears in the August 2022 Design for a Better World issue of Wallpaper* is available from 14 July in print, on the Wallpaper* app on Apple iOS, and to subscribers of Apple News +. Subscribe to Wallpaper* today
Pei-Ru Keh is the US Editor at Wallpaper*. Born and raised in Singapore, she has been a New Yorker since 2013. Pei-Ru has held various titles at Wallpaper* since she joined in 2007. She currently reports on design, art, architecture, fashion, beauty and lifestyle happenings in the United States, both in print and digitally. Pei-Ru has taken a key role in championing diversity and representation within Wallpaper's content pillars and actively seeks out stories that reflect a wide range of perspectives. She lives in Brooklyn with her husband and two children, and is currently learning how to drive.
With contributions from