First look at Danish brand Vipp's debut furniture collection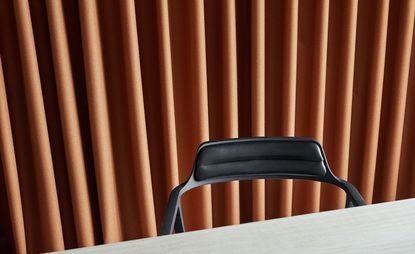 (Image credit: Elizabeth Heltoft Arnby)
For a brand that prizes longevity over novelty, Vipp has had a prolific decade. Originally a manufacturer of pedal bins and bathroom accessories, the Danish firm made an entry into the kitchen market in 2012, with a modular, stainless steel design that can be taken out and travel with the owner if they relocate (W*157). Alongside came a tableware collaboration with Danish ceramicist Annemette Kissow, marking Vipp's first experiments with ceramics and glassware. Then there was a prefabricated shelter, launched in 2015 – a steel cabin with floor-to-ceiling glass living areas, a kitchen, bathroom and loft bedroom (W*191) – followed by a lighting collection. The same year, Vipp added to its concept store on Copenhagen's Ny Østergade with a showroom in Manhattan's Meatpacking District, signalling the brand's ambitions in the US market.

More recently, it enlisted architect David Thulstrup to create the 400 sq m Vipp Loft, on the top floor and mezzanine of its Copenhagen HQ. The Loft is billed as a one-room hotel, providing clients with a full immersion into the Vipp universe (the room rate can be credited towards the purchase of a Vipp kitchen). But in the rare absence of guests, it also doubles as a testing ground for the brand's upcoming releases. Prototypes are paired up with existing Vipp offerings to ensure that they will become seamless additions to the product family.
It is here that we catch a glimpse of Vipp's next move, its first proper foray into the furniture market. To be sure, the brand has dabbled in furniture before, including shelving, a dining table and a side table (all in powder-coated steel, with ceramic tops), as well as a daybed, upholstered in aniline leather, that sells for DKK99,500 (£11,745). But the upcoming launch, which includes two dining chairs, a lounge chair and a coffee table, is a bolder project, involving a more diverse palette of materials and colours, thus marking a shift in the brand's direction.

The lounge chair and one of the dining chairs have a metallic frame that is distinctively Vipp – black stainless steel, with the usual powder-coated coffee surface that gives it the tactility of cast iron (it also has a subtle lustre, courtesy of aluminium dust). What sets them apart is the leather upholstery, available in black but also a luscious dark brown that diverges from Vipp's monochrome aesthetic. The circular lounge table can be thought of as a wider, lower version of the side table, but notably is topped with marble or smoked oak instead of ceramic. However, it is the second dining chair, still in early prototype stage during our visit, that catches our attention. This is the first time the brand has made a piece of furniture entirely in wood, and though its gently elevated seat, clean profile and precise contours identify it as a Vipp design, it is a clear statement of intent.

It is a deliberate effort to shift perceptions, according to Kasper Egelund, third-generation owner and CEO of the company. 'If you create everything in black steel, it's not interesting anymore. We're working on a balancing act.' His mother Jette, Vipp's chairman and daughter of founder Holger Nielsen, adds: 'We've made all these hard things, so now we're turning to our more feminine and cosier side to add to our range.' She took over the company when Nielsen passed in 1992, developing the product range beyond the iconic pedal bin (she designed Vipp's second product, the toilet brush) and expanding the Denmark-based distribution to build a global network of retailers, starting with The Conran Shop in the UK and Williams-Sonoma in the US. She keeps an open mind as to where the company is going – so long as it produces at exceptional quality. 'My father instilled it in me,' she says. 'Whatever we make, it is never a "quick fix".'
Jette hired Vipp's first chief designer, Morten Bo Jensen, who has now overseen product expansion for 12 years. He prefers to think of his designs as 'tools for everyday life', noting that each one has the same sense of craftsmanship and attention to material. 'It's been my big passion to see if we can put a huge part of Holger into every single new item, in order to establish Vipp as a brand, not least internationally,' he says. 'We're now trying to compete in the sport of design with all the other great brands we see out there. The pedal bin is not enough.'

Yet it is the bin that continues to inform the brand, not only in its intelligent design but also its sturdy construction. It is not unheard of for Vipp bins to last half a century and, unusually for such a humble object, spare parts are available for purchase. 'It's our responsibility to the world, or at least to our end consumers, that when we ask them to pay a significant amount of money for a product, they have the benefit of keeping it for many, many years.'
Which is why Vipp will not overhaul its furniture range every year, as some brands do in an effort to provide PR-able launches at international design fairs. Certainly, further furniture typologies are on the drawing board. Gesturing to the living area of the Vipp Loft, which has two contemporary sofas alongside chairs by Poul Kjærholm and Flemming Lassen, Kasper says: 'When you look around, it's easy to say, "That's nice, but it's not Vipp. Why don't we make it?"' And there will be incremental improvements to existing pieces, says Jensen, but the designs are here to stay.

And so are Vipp's owners, who are happy to keep it a family business at a time when conglomerates are snapping up Danish design brands – in the past year alone, Muuto was acquired by Knoll, Gubi by private equity firm Axcel, and Hay sold a stake to Herman Miller. Speaking from the New York showroom, Jette's daughter Sofie (the company's concept director, a graphic designer by training who created the current logo) says: 'We do it out of love for our product. We have done a lot of unusual development and been carried along by opportunity and passion and great ideas, not necessarily following an obvious path. I'm not sure what lies ahead, but if it's like the last couple of years, it's going to be very exciting.'

As originally featured in the December 2018 issue of Wallpaper* (W*237)
INFORMATION
For more information, visit the Vipp website (opens in new tab)
TF has been editor of Wallpaper* since December 2020. He is responsible for our monthly print magazine, planning, commissioning, editing and writing long-lead content across all our content pillars. He also plays a leading role in multi-channel editorial franchises, such as our annual Design Awards, Guest Editor takeovers and Next Generation series. He aims to create world-class, visually-driven content while championing diversity, international representation and social impact. TF joined Wallpaper* as an intern in January 2013, and served as its commissioning editor from 2017-20, winning a 30 under 30 New Talent Award from the Professional Publishers' Association. Born and raised in Hong Kong, he holds an undergraduate degree in history from Princeton University.