Taste test: Design, Bitches create a coffee training centre for Counter Culture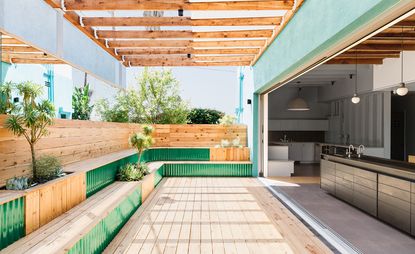 (Image credit: Laure Joliet)
The feted Counter Culture coffee company has brought its know-how, tastings and professional education program to the hip area of Silver Lake in Los Angeles. With plans to open in Seattle, Dallas and Miami next, the North Carolina-based roaster is offering both industry support and public-access coffee brewing classes.

Conceived by Catherine Johnson and Rebecca Rudolph, the duo behind Design, Bitches, the training center is a unique work and play space. 'We took a lot of inspiration from the 1940s streamlined art deco building and from the artistic neighbourhood – from a vibrant exterior colour to [an] interior finish that reflects a California-centric indoor/outdoor sensibility,' they explain.

Organised in a plus formation with two relatively equal axes, the interior space is activated in multiple directions and allows for maximum flexibility and connection to the outdoor space. 'Multiple stations have been set up for espresso and pour-over brewing around the "ziggurat" – a central seating element which acts as room divider, seating for classes when in session and a casual, flexible work space,' Johnson continues.

'Counter Culture's Training Centres serve many purposes for the cities they operate in. First and foremost, they are a classroom where we are able to facilitate a curriculum of coffee education that we offer exclusively to our wholesale partners,' says Jesse Kahn, Counter Culture's national wholesale manager and head of training centre development. 'The spaces are the uniquest [sic] of offices, allowing our regional staff and our partners access to anything and everything they need to learn and engage about coffee.'
'We took a lot of inspiration from the 1940s streamlined art deco building and from the artistic neighbourhood – from a vibrant exterior colour to [an] interior finish that reflects a California-centric indoor/outdoor sensibility,' the duo explains.
Organised in a plus formation with two relatively equal axes, the interior space is activated in multiple directions and allows for maximum flexibility and connection to the outdoor space.
Johnson continues, 'Multiple stations have been set up for espresso and pour-over brewing around the "ziggurat" – a central seating element which acts as room divider, seating for classes when in session and a casual, flexible work space'.
Says Jesse Kahn, Counter Culture's national wholesale manager and head of training centre development, 'The spaces are the uniquest [sic] of offices, allowing our regional staff and our partners access to anything and everything they need to learn and engage about coffee'.
INFORMATION
For more information, visit the Counter Culture website (opens in new tab)
ADDRESS
Counter Culture Training Centre
1601 Griffith Park Blvd
Silver Lake, LA
VIEW GOOGLE MAPS (opens in new tab)
Daniel Scheffler is a storyteller for The New York Times and others. He has a travel podcast with iHeart Media called Everywhere (opens in new tab) and a Substack newsletter, Withoutmaps (opens in new tab), where he shares all his wild ways. He lives in New York with his husband and their pup.