Green thumbs: Collective Design Fair 2017 takes a bucolic bent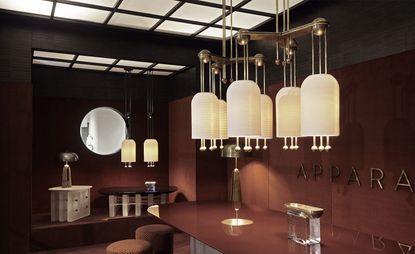 (Image credit: Clemens Kois)
Kicking off the frenzied next few weeks of NYCxDesign was New York's homegrown Collective Design Fair. 'It's not a fair,' says founder-director Steven Learner, 'It's really a platform. We are cultivating the next generation of collectors.' Roaming on the circular path of its Skylight Clarkson Sq home, it was apparent that Collective speaks to the cognoscenti and converts alike.

Learner emphasised the educational pulse that runs through each booth, saying 'this is not a luxury setting' but rather a 'place where the lines blur between art and design'. The fair's range spanned large-scale presentations to small handmade crafts able to be taken home.

The eco-system of Collective is very much parallel to the design community in New York, and as Learner reminds, 'New York is home to twice as many designers as the next two cities, Paris and LA, so we should have a preeminent homegrown event to celebrate that.' And inside Collective, creations originating from Bushwick, Red Hook and Sunset Park run alongside Madison Avenue, Tribeca and NoMad. To put it terms outside of New York— the glamorous and the gritty sit side-by-side in harmony.
Intimate isn't usually a word much used to describe an art fair—but with booths neatly nestled into one another, some with walls, many more with consoles dividing the lines between neighbors, Collective has a calm, convivial feel. 'I wanted to make this feel grounded, and organic,' says the keen-eyed Cristina Grajales, 'With so much going on in the world, I wanted this to be the anti-chaos and very earthy.' Her well-edited space was filled with a mesmerizing fabric-wrapped metal-spool sofa, Alloy Bench, by Turkish set-designer Betil Dagdelen, which Grajales has 'never seen anything like it', as well as Pedro Barrail's tattooed-wood Breakfast Table and El Castor stools.

In fact, the impulse towards nature was palpable – over in Gallery Loupe, Jennifer Tusk debuted a collection of carved bone necklaces and wall sculptures manipulated into delicate flowers, or as Tusk puts it, 'turning the fauna into flora'. A similar impulse existed in master ceramicist Peter Lane's 'Darkroom', his largest clay installation to date: eight tonnes of hand-worked black-glazed clay panels measuring 12'x46', which as Lane says, 'is a complete environment that communicates just what is my practice' that also plays with breaking down barriers between man- and earth-made spaces'.

Ceramics were in heavy demand with prime examples being Bae Sejin at J Lohmann and Roberto Lugo at Wexler Gallery. With the Stickbulb's 'reclaimed Redwood' mirrored light sculpture to Haas Brother's recent 'Fungus Humungus' and Fredrikson Stallard Lucite tables tables, looking around it became clear: this next generation of designers is concerned with nature and rejecting the modernist impulse toward urbanity and machine-made.
INFORMATION
Collective Design Fair 2017 ran from 3 – 7 May. For more information, visit the website