Year in review: Wallpaper* design editor Rosa Bertoli picks her top 10 design stories of 2021
Wallpaper's Rosa Bertoli looks back: discover the top 10 design stories of 2021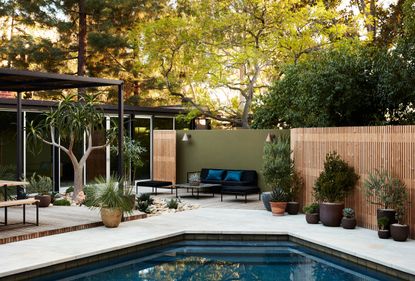 (Image credit: TBC)
These are some of the design exhibitions, openings, interiors and creatives that shaped 2021, from an exploration of the boundaries of textiles by Hella Jongerius to an overview of Charlotte Perriand's life and work, a new museum that celebrates the design history of Molteni & C and an all-seasons garden by Piet Oudolf. Here, we look at some of the best design stories and interviews from 2021 (in no particular order).
Top 10 design stories of the year
01. Tableau design mental health space in Copenhagen
Post Service is a new 'facilitation studio addressing death and grief' that opened in Copenhagen, led by mental health practitioner Xanthippi de Vito and designed by multidisciplinary studio Tableau (opens in new tab). The project started in 2015, when de Vito began wondering about her experience as a practitioner, and about how mental health could be enriched through design. 'Within health and wellness, there are certainly communities engaging with deep and meaningful connections but I never found a communal experience that really resonated with me, so I've been working on piecing together what that community and experience feel like,' says de Vito. 'It was intuitive that art and design will play major roles in the experience.'
READ MORE (opens in new tab)
02. The pared-back designs of Mario Tsai
It didn't take Hangzhou-based designer Mario Tsai long to carve out his niche. In 2015, he brought his studio's first collection to Ambiente in Frankfurt, and the following year to Greenhouse, the emerging talents section at Stockholm Furniture & Light Fair, where he landed his first European clients. He has since worked with the likes of Shang Xia, Northern, Woud, and Cedit. His best-known work, the 2018 'Insert' table for Ferm Living, comprises a slender oval top supported by intersecting geometric forms (a coffee table option launched last autumn). To date, Tsai is still one of a select few Chinese designers who receive commissions from global furniture brands. He talks to Wallpaper* China editor Yoko Choy about his experience working as a designer and entrepreneur in China, at the cusp of innovation and tradition.
READ MORE (opens in new tab)
03. Molteni Museum opens in Giussano
Ron Gilad brought fresh perspective to the Molteni Museum's Glass Cube in Giussano. Former Wallpaper* Milan editor and current Triennale Design Museum director Marco Sammicheli spoke to Gilad and Giulia Molteni to find out about the museum's plans, from the light-filled architecture to displays of designs by Gio Ponti, Afra and Tobia Scarpa, and Aldo Rossi's theatre seats designed in collaboration with Luca Meda, to the digital context given to the physical artefacts.
READ MORE (opens in new tab)
04. Charlotte Perriand at the Design Museum
Throughout Summer 2021, London's Design Museum staged 'Charlotte Perriand: The Modern Life', an exhibition shining the spotlight on one of the most iconic creators of the 20th century. with an exhibition design by Assemble and graphics by A Practice for Everyday Life, the exhibition showcased the work and ideas of the French architect and designer through a series of thematic displays, the exhibition presenting her creative process with an impressive series of sketches, photographs, notebooks, as well as furniture design prototypes, final pieces and faithful reconstructions of some of her most famous interiors, in collaboration with Cassina.
READ MORE (opens in new tab)
05. Piet Oudolf designs all-season garden for Vitra Campus
In June 2021, Vitra unveiled Piet Oudolf's garden for all seasons at the campus in Weil am Rhein, Germany. 'As we do not intend to construct new buildings in the foreseeable future, it seemed that a garden would be an interesting expansion of the campus' concept,' says Rolf Fehlbaum, Vitra's chairman emeritus. Oudolf's planting for the lush 4,000 sq m perennial garden feels characteristically accidental, but is incredibly precise and intentional. The Vitra Campus garden uses more than 30,000 plants with many species and this takes expert organisation: feathery Asclepias tuberosa; reddish Sporobolus heterolepis; giant daisy-like Echinacea pallida; raspberry-coloured brush heads of Sanguisorba menziesii; violet fuzzy baubles of Echinops ritro; candy floss clouds of Filipendula rubra.
READ MORE (opens in new tab)
06. Hella Jongerius weaves the cosmos at Gropius Bau
A new series of textile experiments and an exhibition at Berlin's Gropius Bau held in Summer 2021, 'Hella Jongerius: Woven Cosmos' presented a panoramic take on her thinking, including recurrent themes such as sustainable innovation, craft, responsible production, and how we relate to objects and nature. Presented as a work in progress, 'Woven Cosmos' includes two new installations and more than 50 new objects created by Jongerius and her team between her Berlin studio and the neo-Renaissance halls of the museum, with some pieces developed live on site during the exhibition. Jongerius brought a multilayered and personal approach to the project, including a spiritual séance led by a local shaman in the Gropius Bau's atrium before production started, which highlighted the vitality of the building.
READ MORE (opens in new tab)
07. Formafantasma on designers thinking big
Formafantasma, as its website describes, is 'a research-based design studio investigating the ecological, historical, political and social forces shaping the discipline of design today'. This mission statement is as ambitious as it gets. But it's apt for a studio that, for over a decade, has constantly pushed the boundaries of design practice and evolved our understanding of the field. From its 'Ore Streams (opens in new tab)' project (2017 – 19), which considered the recycling of electronic waste and how design can encourage more responsible use of resources, to the ongoing 'Cambio (opens in new tab)', which explores the governance and ecological impact of the timber industry, Formafantasma's work has inspired a new generation to see design not just as a styling tool, but also as a transformative force in an era of global uncertainty. The Italian design duo – and Designer of the Year in the 2021 Wallpaper* Design Awards (opens in new tab) – were among our featured visionaries in '5x5', Wallpaper's 25th anniversary project, in this interview they discuss their first year heading the GEO-Design master's programme at Design Academy Eindhoven, educating students for a changing world, and their pick of five creative leaders of the future who are expanding the practice of design.
READ MORE (opens in new tab)
08. Karl Lagerfeld's design collection goes on sale at Sotheby's
As the estate of Karl Lagerfeld went under the hammer at Sotheby's in late 2021, Wallpaper* contributing editor Nick Vinson took an exclusive tour of Lagerfeld's never seen before Paris apartment. Among the treasures for sale are the contents of various spaces belonging to the fashion designer, photographer and collector, who passed away in February 2019: his 19th-floor apartment in Monaco's Millefiori tower; his 19th-century house in Louveciennes near Versailles, where the poet Leconte de Lisle was once a frequent guest; his apartment at 17 quai Voltaire in Paris; his office at 15 rue des Saint-Pères; and the never-before photographed apartment opposite, at 8 rue des Saint-Pères.
READ MORE (opens in new tab)
09. Nifemi Ogunro talks design and family
Nifemi Ogunro, a Nigerian-American artist and designer, marries design to the concept of family in a very literal way. In her first, very personal, collection of furniture, she reaches for inspiration within her own immediate family. Born in Lyon, France, Ogunro moved to Colorado, and then lived in North Carolina – graduating with a degree in industrial and product design from Appalachian State University in 2017 – and Georgia before settling in Brooklyn, New York. Throughout these moves, she's had to bring her family with her in spirit, if not in the flesh. And so Ogunro's closest relations came to inspire a series of functional objects. The collection comprises stools, for her parents, and a coffee table, for her brother. Part-sculpture, part-furniture, the prototypes were all designed during the first few months of the pandemic.
READ MORE (opens in new tab)
10. Studio Shamshiri renovates a midcentury LA home
French-Tunisian entrepreneur Franck Nataf enlisted designer Pamela Shamshiri to oversee a refresh of his jewel box Hollywood Hills house. Nestled in the verdant Hollywood Hills, shaded by lush foliage and giant palms, Ledgewood is a single-storey, modestly sized 2,298 sq ft house. The 1961 building was originally designed by Robert Kennard, an associate of Richard Neutra and a leading Black architect of his generation. Not grand by Hollywood standards, this handsome property is situated in perhaps the least inconspicuous of locations – just below the Hollywood sign. Wallpaper's US director Michael Reynolds has collaborated with Shamshiri extensively, and styled our shoot at Ledgewood. He affectionately describes her as 'a triple threat with a magnetic, rockstar personality. Firstly, she is beautiful. Secondly, she is nurturing and compassionate, with a maternal, salt-of-the-earth vibe. On top of all of that, she is incredibly talented with exquisite taste.'
READ MORE (opens in new tab)
Rosa Bertoli was born in Udine, Italy, and now lives in London. Since 2014, she has been the Design Editor of Wallpaper*, where she oversees design content for the print and online editions, as well as special editorial projects. Through her role at Wallpaper*, she has written extensively about all areas of design. Rosa has been speaker and moderator for various design talks and conferences including London Craft Week, Maison & Objet, The Italian Cultural Institute (London), Clippings, Zaha Hadid Design, Kartell and Frieze Art Fair. Rosa has been on judging panels for the Chart Architecture Award, the Dutch Design Awards and the DesignGuild Marks. She has written for numerous English and Italian language publications, and worked as a content and communication consultant for fashion and design brands.