100% Norway: the ones to watch at Tent London
Ahead of the London Design Festival, we shine the spotlight on the ones to watch at this year's 100% Norway exhibition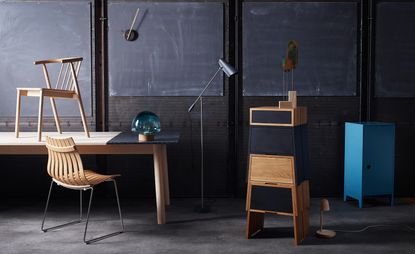 (Image credit: Siren Lauvdal)
When it comes to Scandinavian design, Norway is too often the overlooked middle child, vying for attention against its Nordic siblings Sweden and Denmark. But the Land of the Midnight Sun is set to have its moment in the spotlight, as Tent London gears up to host the next edition of 100% Norway, opening next week during the London Design Festival (opens in new tab).

Now in its twelfth year, 100% Norway is boasting its strongest line-up to date, with 33 of the country's finest designers presenting their products and prototypes at the Old Truman Brewery. This year's endeavour is collaboration between The Norwegian Centre for Design and Architecture (opens in new tab) (DogA), the Royal Norwegian Embassy in London and Ministry of Foreign Affairs, in partnership with Norwegian Icons (opens in new tab). And everything on show is truly 100% Norwegian to boot – both designed and manufactured within the country's borders.

100% Norway regular Hallgeir Homstvedt has teamed up with his graphic designer sister, Hege Homstvedt, to create a small but perfectly formed collection of bold bookends. Entitled 'Fauna', each piece is a minimalistic tribute to a native Norwegian animal (fox, puffin, hedgehog and bullfinch) and is crafted from Nordic rock.

Oslo-based designer Kristine Bjaadal is exhibiting a duet of collections of vessels ('Hegne', turned ash or walnut with a ceramic lid; and 'August', coloured porcelain with solid oak/ash lids), while design collective Trefjøla is putting a contemporary spin on a traditional kitchen utensil, dishing up a bold, patterned collection of cutting boards made from local reclaimed wood.

It's not just a Norway-centric affair, as designers set their sights beyond their homeland for inspiration. Booted and suited Fimbul (whose attire was less design studio and more law firm when we met them recently in Oslo) pay a fitting tribute to London and British leather craft, with the elegant 'Canary Wharf' horsehair and walnut shoe brush.

Imke Tschentke, meanwhile, has looked even further afield for inspiration. Her 'Krakk2' furniture collection is the result of a two-month research stint in Ulan Bator, where she immersed herself in the often-cramped Mongolian homes. To wit, she's devised a multi-purpose, space saving storage and seating system, which this year has been expanded to include a bench version.

And Kneip is looking upwards with its meteorology-inspired collection, 'Weather', and sculpture series 'Pat Volume 1'. Other projects to look out for include those by recent Wallpaper* Handmade collaborators StokkeAustad, Ralston & Bau, Sverre Uhnger and Thomas Jenkins.

Helping to wash down all this new Nordic design, Oslo's historic Fuglen bar will be on hand for coffee and cocktails. Here's to the Northern Lights shining in London.
INFORMATION
100% Norway runs from 24 until 27 September 2015. For tickets to Tent London, click here (opens in new tab)
ADDRESS
Tent London
Old Truman Brewery
91 Brick Lane
London E1 6QL
View Google Maps (opens in new tab)