New Danish brand Reform taps big-name architects for affordable kitchen range at Northmodern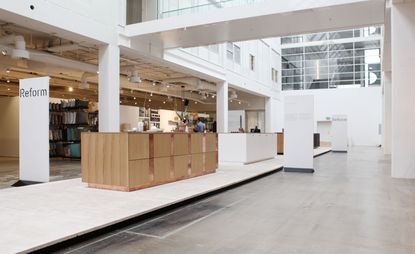 (Image credit: TBC)
Taking centre stage at Northmodern fair in Copenhagen last week was a showcase of innovative kitchens from new brand Reform (opens in new tab). Founded by Michael Andersen and Jeppe Christensen last year, the company invited three Danish architecture firms - BIG (opens in new tab), Norm Architects and Henning Larsen Architects - to create affordable yet high-designed kitchens. How did they manage this? By hacking cabinetry by Ikea.

The collaboration builds on Reform's inaugural kitchen design, which first launched at the end of last year. Entitled 'Basis', the model is made up of Ikea modules dressed in classic Scandinavian minimalism - clean, white faces with an oak finish. At the fair, the experimental brand spoke of an admiration for the logistics of Ikea and its 'hacking' philosophy. Customers are invited to choose their cabinetry, then their 'reform', which have been imagined by the three participating design studios, using their own aesthetic and materials.

The models were lined up at the Bella Centre space, where each practice's individual touches shone through in spite of the kitchens' identically shaped Ikea bodies. Norm Architects' project was the standout, and sought to fill a gap in the market for affordable kitchens with the studio's first kitchen concept. The firm chanelled its minimalist style buy mixed up the materials - think a raw contrast of chalky reinforced concrete for the top and dark oak sawn veneer and smoked oak on the fronts, plus a luxury finishing touch of brass on the inside.

Henning Larsen Architects, meanwhile, presented two models, remaining close to the design of the original 'Basis' in the first, while the second employed reflective copper strips on the oak doors. Playfully adding textiles in mix was BIG architects, who attached security straps handles to their veneer oak doors. The kitchens will be available to purchase from September.