Celebrating Scandinavia: Northmodern hosts a display of Nordic style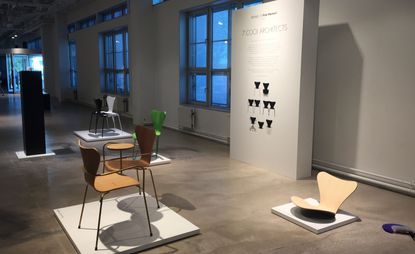 (Image credit: Fritz Hansen)
Hidden at an off-motorway site in Ørestad, south of Copenhagen's city centre, the city's Bella Centre was home to a celebration of Scandinavian design during last week's Northmodern fair. The airport-hotel area is currently transforming into its own cultural hub, and the design fair is part of this hopeful resurgence. The centre itself – attached to an impressive tooth-patterned twin tower hotel structure by 3XN Architects – housed an array of Nordic minimalism at its finest.

Upon entering the conference centre, we were greeted by 'Icons,' a hand-picked selection of pieces that reiterated the show's theme of Danish modernism. Included was the Fritz Hansen installation '7 Cool Architects', which saw Arne Jacobsen's classic Series 7 chair re-designed by seven architects. Alongside this was the experimental and fully Danish 'Keystone' by Os & Oos, newly upholstered in Kvadrat fabric for Scandinavian distributors Please Wait to be Seated.

This is the fair's second time running as Northmodern (it was previously named Design Trade). To mark this move to play down the purely commercial aspects of the show, the organisers have created a new furniture-specific section called 'Room'. From the range of note-worthy new releases, Ferm Living presented their first segue into larger furniture with a collection inspired by graphic lines. Introducing a two-toned sofa and daybed, the Danish brand maintained their geometrical style with a contrast theme of dark navy and grey lines. Muuto were also celebrating inaugural releases at the fair, launching their first pouf, designed by the Norwegian duo Anderssen and Voll. Its hexagonal shape was immersed in a pastel-hued set up alongside a new selection of sleek, similarly-toned pendant lights by Swedish architectural studio TAF.

Elsewhere, Danish-Californian brand Hey There Hi – who launched last autumn with minimalist lighting – has now branched out into furniture. Founded by Danish lamp maker Jacob Faust, LA-based graphic designer Camilla Hjerl and ceramicist Birgitte Dark Winther, the trio takes pride in a style that straddles art, design and their West Coast-meets-Nordic influence. For A/W 2015, clean shelving and textured ceramic vases were on display in their organic stand, adorned with Faust's gold plated pendants, foliage and contemporary artworks.

A selection of standout newcomers were also in the mix, including Danish kitchen brand Reform and its range of IKEA cabinetry recreated by different starchitects. New on the block was SixtenErfurt – the collaborative effort of Copenhagen-based Kasper Sixten and Frederik Erfurt, presenting their inaugural handmade collection, 'A New Unity'. Boasting an eloquent Nordic style, our favourite piece was the 'Moon' lounge chair, resplendent in dyed electric blue leather with a refined powder coated steel frame.

Finally, one of our very own Wallpaper* Handmade projects made its way to the fair – the 'Spring' scissors by Lex Pott and Nomess Copenhagen were included in an interactive experience, displaying the many ways they can be used. These were on show in the 'Gallery'; an area of the fair set aside for newer talents and special exhibitions, housed in a tranquil greenhouse – a momentary source of bucolic solace among the modern design vibes.