Slow Spain is AHEC's showcase of the country's next generation of creatives
With Slow Spain, AHEC presents new work by 17 students selected from nine Spanish design schools at Madrid Design Festival 2023 (until 12 March 2023)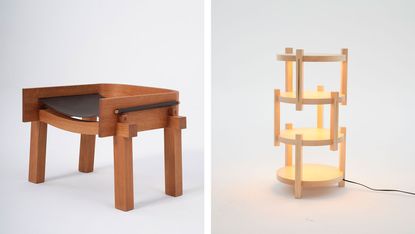 (Image credit: Uxío da Vila)
At Madrid Design Festival 2023, 17 student designers from nine Spanish design schools have unveiled a range of thoughtful furniture projects crafted in underused hardwoods in order to champion 'slow design for fast change'. The group exhibition, 'SLOW Spain', is an initiative from the American Hardwood Export Council (AHEC), also involving three acclaimed Spanish designers, who helped mentor the students: Jorge Penadés, Studio Inma Bermúdez, and Álvaro Catalán de Ocón.
Slow design in the spotlight
As a response to the wasteful, standardised practices of mass production, 'slow design' has been gaining traction in recent years, as a way to prioritise a more conscious, caring, sustainable and material-specific approach to design. Rather than wanting to create as much as possible as quickly as possible, slow designers seek to slow down the design process, to be more responsive to social, environmental, material and cultural contexts.
'We urgently need to design a world in which people consume less, and derive more use, more joy and more beauty from increasingly limited resources,' says David Venables, AHEC's European director. 'Slow design is essential to achieving this – the more designers that embrace it, the sooner we can change our culture of ultra-fast consumption.'
'SLOW Spain' by AHEC at Madrid Design Festival 2023
In 'SLOW Spain', students worked exclusively with four American hardwoods that are underused in Europe: red oak, cherry, maple and tulipwood. These woods account for over 40 per cent of the standing timber in the US, and their use offers a solution to the environmental ills caused by a commercial over-reliance on a narrow selection of other woods. According to AHEC, it takes just over two seconds for the hardwood harvested for the 'SLOW Spain' projects to be replaced by new growth in US forests. 'We should use what nature provides us,' says Venables.
As well as resulting in sustainable, longer-lasting products, slow design also centres on the wellbeing of the user, encouraging a slower lifestyle. The nine 'SLOW Spain' projects neatly express this, from a room divider that invites gentle interaction to a series of oversized deckchairs for relaxation.
'Scaffold', by Arnau Anoro, is an immersive installation in red oak that comprises seating encircled by tall shelving. The cocoon-like wooden oasis encourages a moment of rest – either communally or in isolation. 'I want people to have an emotional connection with the work,' the designer explains.
Anoro sought to translate the modular system of scaffolding into the domestic landscape, and Scaffold is reconfigurable, enabling the user to adapt it according to need. Indeed adaptability is a running theme throughout the 'SLOW Spain' projects, enabling objects to be used for longer. 'Extending the lifespan of a product enhances its sustainability,' says Penadés, who mentored Anoro.
Another piece, 'Habi' (designed by Natale Armendáriz, Jon Calleja, Nora Etxeberria and Ane Ozkoidi), is a baby's cot that transforms into a wardrobe after the child grows up, giving the piece a second life.
'Todo Toca', designed by Eli Yang and Anna Perathoner, is a maple room divider and bookcase that welcomes seemingly endless configurations. Rows of rotatable lozenge-shaped panels, decorated with rippling patterns, stand between shelves. Each one can be uniquely positioned, or even removed, creating a thoroughly flexible piece of furniture, visually and practically. 'You can customise it with your books, and your memories,' says Perathoner. Through unique use and adornment, Yang adds, the piece is designed to evolve and adapt over time.
Other pieces on show also demonstrate this inventive spirit, blending conscious design with a passion for new kinds of solutions. 'Pami' (by Berta Albiac Adell, Queralt Font Sabadell and Albert Roca Nonell) is both a side table and a lamp. As a layered, cylindrical piece in maple, each circular shelf has an in-built light panel underneath, turning 'Pami' into both a multifunctional practical object and a sculptural source of illumination.
One positive impact of the 'SLOW Spain' project, beyond championing slow design and the sustainable use of hardwoods, is the chance it gives students to realise their ideas with high quality materials, manufacturing and mentoring. 'They are having professional experiences before they are professionals,' says Penadés. 'It's an amazing opportunity for them.'
After excitedly presenting their projects at the exhibition, the students return to continue their studies at university. When asked what this project will mean for them going forward, they are resolutely optimistic. 'I want to make sure this is a beginning,' says Adorno, 'not an end.'
'SLOW Spain: Slow design for fast change' is on show until 12 March 2023
Fernán Gómez Centro Cultural de la Villa
Pl. de Colón, 4, 28001
Madrid
americanhardwood.org (opens in new tab)