Eric Hoffman's sensitive vision elevates branding to the highest level
Eric Hoffman, founder of Hoffman Creative and one of the Wallpaper* USA 300, is the behind-the-scenes maestro composing image overhauls for some of the biggest names in the design industry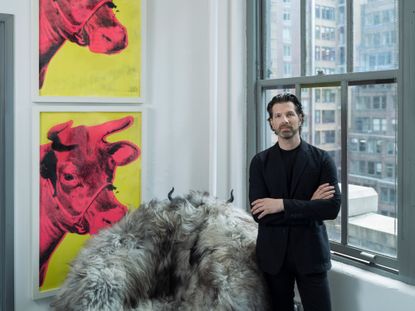 (Image credit: Photography: Sasha Maslov. Producer: Michael Reynolds)
Who does design royalty turn to when in need of an identity upgrade or a new typeface for a website? Eric Hoffman, founder of Hoffman Creative and one of the Wallpaper* USA 300, is the behind-the-scenes maestro composing image overhauls for some of the biggest names in the industry .
Eric Hoffman's work: 'order to calm, cohesion to creativity'
Pamela Shamshiri (a former Wallpaper* Design Awards judge), for whom he has designed a new website and a book that will be published by Rizzoli this September, calls him 'a design healer, because you feel heard and seen in a way that elevates your work'. Simon Haas, of the Haas Brothers, tells me, 'He's a rare person who approaches design in the same way he approaches people: with excitement, curiosity, an open heart and an open mind.' Charles Miers, publisher of Rizzoli New York, concurs: 'His design and art direction elegantly invites you into the worlds of an artist or designer, quietly but powerfully enveloping you in their aura.'
Hoffman spends his days helping designers galvanise and understand their USP. 'We are a full-service communication agency,' he clarifies. 'It's our job to tell the story, and we do that through lots of different levers that we pull,' he says. 'Identity design is the first layer of building this house. It's a big ecosystem.' Indeed, Hoffman's unique approach is more anthropological than most agencies, something his clients seem to love and describe as a therapeutic process.
Working with his nimble and dedicated Manhattan-based team, he forms deep bonds with clients (which have included Steven Volpe, Olivia Williams, Atelier AM, Thomas O'Brien and Calvin Klein, to name just a few), shadowing on site visits and at studios, observing and listening to objectives and goals, and integrating this information into the design decisions. 'Our work is not just good at launch, it's good many years down the road. For me, a measure of success is when someone says, "When was that made?".'
The creative process is perhaps best described by Shamshiri: 'Eric listens astutely and absorbs all the images, details and ethos and, in particular, our process at the studio. In my mind, he goes away and meditates on it all. Then he comes back with a concept that is like a mirror being held up to our work. His framing is incredible. It's thoughtful, precise, elegant and elevates our work to the best possible level.'
This deeply personalised approach is inspired by Hoffman's own interests, which stretch back to his specialisms of fine art and environmental studies at Bard College. He even spent two years working for the Peace Corps at Belize's national zoo under biologist Sharon Matola after graduating.
Some projects are years in the making, such as recently unveiled work for the Washington DC-based non-profit Bhutan Foundation, which has involved renovating the Wangduechhoeling Palace into a state-of-the-art cultural institution. The Queen Mother of Bhutan had to personally approve Hoffman's identity design. 'It's a fascinating and huge project that plays into my love of travel, ecology and anthropology. I didn't grow up with interior design, I didn't know what that was,' says Hoffman, whose first job out of college in 1994 saw him working in PR for famed Apple Records director Peter Brown, answering the phone to the likes of Nancy Reagan and Andrew Lloyd Webber. A stint at boutique advertising agency Arnell Group followed, where he worked in strategic marketing, hosting focus groups for major beauty and fashion brands, and learning about people's behaviour.
After returning to New York from his Peace Corps duties, he enrolled at the School of Visual Arts and also began working for a midcentury design gallery on the UpperEast Side, which primarily dealt in Tommi Parzinger furniture. The late Parzinger's partner Donald Cameron became an important mentor for Hoffman. As did Raúl Martinez (later chief creative director at Condé Nast US), who Hoffman went to work for at AR New York. Martinez introduced Hoffman to Steven Meisel and, within the month, he was working for the photographer, creating on-set editorial layouts, such as cover designs for Italian Vogue. Working for interior designer Thomas O'Brien came next. 'Steven taught me the power of pictures, their ability to tell a story with no words; Thomas educated me on typography and materiality.'
By now, friends and former colleagues were contacting him to create business cards and company logos. 'It began very organically in my apartment,' says the designer, who eventually founded Hoffman Creative in 2007. 'I've worked for big brands, small brands, boutique agencies and large agencies. I understand how a 500-person marketing team works. But the work is always the work.'
Hoffman is now working with the award-winning writer/producer/director Ryan Murphy, documenting his historic homes for a future book. 'It only took me one photo shoot with Eric to realise instantly that he is the BEST in the business, a master at what he does,' says Murphy. 'Eric has a singular talent for taking ideas from all his collaborators and distilling a singular vision. It is so fun to work with him, and so intellectually rewarding, because of this: he brings order to calm, cohesion to creativity.' High praise indeed. 
A version of this article appears in the August 2023 issue of Wallpaper*, available in print, on the Wallpaper* app on Apple iOS, and to subscribers of Apple News +. Subscribe to Wallpaper* today
Receive our daily digest of inspiration, escapism and design stories from around the world direct to your inbox
Tilly is a British writer, editor and digital consultant based in New York, covering luxury fashion, jewellery, design, culture, art, travel, wellness and more. An alumna of Central Saint Martins, she is Contributing Editor for Wallpaper* and has interviewed a cross section of design legends including Sir David Adjaye, Samuel Ross, Pamela Shamshiri and Piet Oudolf for the magazine.
With contributions from