Design Holding CEO Daniel Lalonde on the group's mission to innovate and inspire
On the eve of Salone del Mobile 2023, we speak to Daniel Lalonde, CEO of Design Holding, on how the design group plans to innovate and inspire through the best design collaborations, while keeping close and accessible to customers and design communities worldwide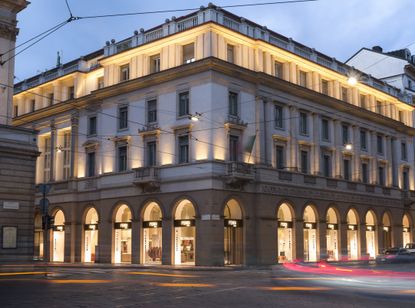 (Image credit: Courtesy Design Holding)
Daniel Lalonde masterfully leads the strategic growth of Design Holding, the group dedicated to international high-end design, of which he became CEO in 2021. With a wealth of proven experience around the world in building up luxury brands, Lalonde, originally from Canada, has worked for Nespresso (which he has transformed into a global brand), and for the LVMH Group in New York, also as President & CEO of Louis Vuitton for North America.
Lalonde's current role at Design Holding got him closer to some of the world's most celebrated design brands, including Flos, B&B Italia and Louis Poulsen. From the beginning, he managed to set a series of goals and implement strategic moves, 'to further expand the company's global leadership and footprint'.
Ahead of Salone del Mobile 2023, Wallpaper* sat down with Lalonde to hear about Design Holding's next steps.
Daniel Lalonde interview
Wallpaper*: What is your vision for the future of Design Holding as a group?
Daniel Lalonde: The motto of Design Holding, 'We design for a beautiful life', was set with the leadership team. We have built a solid business plan and created an exciting new ambition for our group, to be the global leader in high-end design, with an unparalleled portfolio of complementary brands, reaching designers/architects and final consumers through a multi-channel approach. Design Holding brands are positioned in the luxury pinnacle, also thanks to the long-lasting collaborations with more than 100 top architects and designers. Our unique business model brings together creative minds (designers), the R&D departments of the brands, and best-in-class manufacturing capabilities.
My long experience in luxury brands has guided me to build a platform with which our luxury design brands can be accelerated to grow at scale, to become global brands, and from which we will develop leadership and experience on the ground in all regions, channels, and sectors. The key is for our brands to keep their autonomy in being themselves by honouring and respecting their heritage, foundation, and individual DNA. This is at the basis of everything we do, and we make sure to foster a collaborative environment utilising natural synergies where they may lie.
A promising example of the potential synergies across our brands has been seen in the success and growth of our contract business in the retail, hospitality, corporate and residential sectors. Our focus is to promote and support the organic growth of our brands while continuing to evaluate and explore new opportunities in adding fantastic new ones to our portfolio, that are aligned with our high-end positioning and that share our same vision and values.
W*: Can you tell us more about Design Holding's plan to open new stores worldwide? What are the most relevant global destinations, and why?
DL: My mission is to push our brands to be closer to our end customers and to make the whole experience more accessible for them. This is a key pillar of our growth strategy. Our ambition in reaching our end consumer is not limited by our brick-and-mortar locations. On the contrary, we aim to invest in our brands' omnichannel experience, bridging the gap between online and offline and providing unique and innovative multiplatform services such as our design service and products' customisation.
I think that the design world can still be a little intimidating to its customers – often people may feel like they can't enter a high-end design store unless they come with an architect or interior designer. It's my mission to push our brands to be closer to our final customers and make the whole experience more accessible to them. We've been actively promoting the opening of DOS (directly operated stores) and mono-brand stores in key locations to facilitate this objective, as well as to serve as an opportunity for each brand to express their unique identities. The latest examples include the Fendi Casa store in Miami, which opened during Design Miami 2022, in the heart of the Miami Design District. There are many new DOS openings to come in 2023 in markets which are increasingly important for our industry, such as North America and Asia-Pacific.
The experience that comes with physical stores offers a curated environment that is unique and can inspire customers and our A&D community. In the US, we are going to open a new retail hub in Manhattan's Madison Avenue (more than 1,700 sq m), and a new B&B Italia Design Studio in Miami (1,500 sq m) including B&B Italia, Maxalto, Azucena, Flos, Louis Poulsen, and Arclinea. B&B Italia is also opening new DOS in Washington and Boston. In Asia, new important openings include the first Fendi Casa boutique in Shanghai and the first Louis Poulsen store, in Tokyo.
W*: Which goals do you consider crucial and reachable within the next five years for Design Holding?
DL: We have a clear roadmap and the ambition of continuing to be the leading group in luxury design. Design Holding – through the unified collective power of our iconic brands – has a tremendous opportunity to make an impact in the sector. We are doing this through pursuing a clear four-point strategy to expand our business further, aimed at enhancing brand desirability, pursuing our direct-to-consumer journey, expanding geographical reach, enhancing leadership in high-end contract business.
Our first strategic pillar is enhancing brand desirability. Our challenge is to continue to create innovative, inspiring products that make our brands more attractive, better known, and sought after. This leads us into pursuing our direct-to-consumer journey, getting closer to our end consumer and designers' community so that we may become more accessible to them. This means more store openings and to accelerate branded project spaces with our wholesale partners. In addition to reaching our customers through physical stores, we are accelerating our investments in e-commerce so that we may reach them online as well.
Our third strategic pillar is around international expansion; this is about bringing our brands and products to more countries, with a focus on regions where the market is large, and our brands are underpenetrated: North America, Greater China and Middle East. Our international expansion facilitates and encourages our focus on high-end contract business, our fourth pillar, where we have achieved a successful track record in the hospitality, residential, corporate and retail sectors. A few illustrious examples include the Bulgari Hotels, Rolex Stores, and la Bourse de Commerce/Pinault Foundation in Paris.
W*: What is the position of Design Holding regarding sustainability?
DL: As a group which encompasses some of the world's most prestigious furniture and lighting companies in a traditionally fragmented market, we find ourselves in a unique and privileged position to have real impact globally. The group's products are made to last and to be enjoyed by generations to come; in this sense, durability is the quality that perfectly embodies the true meaning of sustainability, a concept that has been part of the DNA of our brands since their foundations.
I strongly believe that crafting beauty must always be done sustainably. I believe that sustainability is about creating a world that is beautiful to live in; at its heart, sustainability is an ethos, a cultural mindset. That's why I keep challenging our brands to not only design pieces that last lifetimes, but also share best practices so that they can meet our targets to become fully sustainable and be part of the circular economy: craft beautiful and innovative objects that – through their design – have both longevity and a minimal environmental footprint on our planet across their lifetime.
We are working hard to put into place transformative frameworks and systems across all our brands that respect the circular economy model across our entire value chain: from sourcing to production, through to consumer use (with objects designed to last), all the way through to the end of life and recyclability/reuse of materials. One example is the B&B Italia 'Bambole' collection by Mario Bellini, or the Flos 'Almendra' by Patricia Urquiola, which are designed using clever methods that put an emphasis on recycled materials and also facilitate the recyclability of the objects themselves.
For 'Skynest 'by Marcel Wanders, Flos' technical department worked with strip-LEDs coated with a tubular fabric, a sock made of recycled polyester threaded onto the rod. These are customary materials but are assembled in a new way: in this sense, 'Skynest' is an exact representation of design innovation, obtained by rethinking the existing and embodying the union between industry, technology and craftsmanship. Another example is that in 2021, Louis Poulsen launched the take-back scheme for the 'PH 5' design, a pendant by Poul Henningsen. Louis Poulsen's own production facilities manage the upcycling process where existing materials will be reused, and the recycled product will be sold with the same guarantee as new ones.
W*: What are Design Holding's plans for Salone del Mobile 2023 and Milan Design Week?
DL: There will be many new designs presented at the Milan Design Week by all our brands, with great focus on Maxalto in 2023. On the occasion of Salone del Mobile, Maxalto, the brand, based on a modern classic approach, will be protagonist with a dedicated stand of over 600 sq m. The brand's novelties will also be displayed in the Store in Via Durini 14, where the products will be presented in domestic settings.
Euroluce's new format will be the perfect stage for Flos to present its new decorative and architectural designs, along with line extensions, heritage relaunches and a selection of outstanding outdoor pieces, while the shop and professional space on Corso Monforte will host a showcase of the spring 2023 decorative collections, featuring a site-specific installation by Michael Anastassiades for the launch of the revolutionary and eclectic lighting system 'My Circuit'.
B&B Italia and Fendi Casa will present their new products at the showrooms in town, the B&B Italia Design Studio in via Durini and at the Fendi Casa Store in Piazza La Scala. This year, an unprecedented setting reveals B&B Italia's 2023 collection, which is enriched with new indoor and outdoor proposals by international architects and designers.
Maria Cristina Didero is an independent design curator, consultant and author, who has contributed to many publications over the years; she is currently Milan editor of Wallpaper* . Didero has consulted for companies such as Vitra, Fritz Hansen, Lexus, Fendi, Louis Vuitton, Valextra among others. Based in Milan, she works internationally, curating exhibitions for institutions: some of her most recent projects include Nendo: The Space in Between and The Conversation Show at the Holon Design Museum, Israel; FUN HOUSE by Snarkitecture at National Building Museum, Washington D.C.; SuperDesign a project about Italian radical design, NY; Vegan Design, or the Art of Reduction by Erez Nevi and The Fish and The Crowd by Carlo Massoud, Milan. In April 2022 she curated a Mathieu Lehanneur exhibition at the Triennale in Milan called The Inventory of Life, while in July she debuted a project at the MK&G in Hamburg titled Ask Me if I Believe in the Future, alongside a series of ongoing collaborations. She was appointed 2022 Curatorial Director of Design Miami/. She is currently preparing two projects for Milan Design Week 2023.