Constance Guisset made her Fuorisalone debut with a scenographic design party
'Surprise Party! Carte Blanche à Constance Guisset Studio' marked the first Milanese solo show of the French designer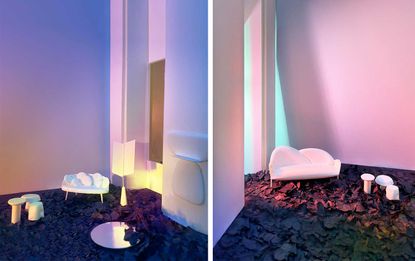 (Image credit: Courtesy Constance Guisset)
Discover Wallpaper's highlights from Salone del Mobile 2023 and Milan Design Week
In the heart of Milan, amidst the frenzy of Milan Design Week 2023, a luminous burst of colour and creativity is set to explode from the beautiful venue of the French Institute. Parisian designer Constance Guisset threw her 'Surprise Party' - a kaleidoscope of vibrant hues and captivating creations that beckoned its viewers to step into a world of wonder and delight.
'Surprise Party! Carte Blanche à Constance Guisset Studio'
The exhibition is a masterful scenography, a haze of warm colours and playful light that bounces and reflects in a mesmerising dance. Objects in predominantly shades of white are placed throughout, creating a delicate balance of shadow and light.
Among them are Guisset's iconic and newly launched pieces, such as the 'Fleuron' collection of seating for Billiani, the organic shapes of the 'Lepida' collection for Woak in solid wood, and the upholstered three-legged bar stool called 'Dune', conceived for Pierre Frey. Together, they represent the designer's relentless pursuit of balance - a delicate twirl between form and function, between the tangible and the poetic.
Guisset's designs embody movement through lightness and surprise, a playful exploration of the intersection between the practical and the artistic. The completed projects on display showcase her unique creativity and artistry, revealing a window into the sensitive world that precedes the conception of her designs – a step that personally I find crucial.
Her 'Surprise Party' is a feast for the senses, an opportunity to venture into a vibrant cloud that offers a much-needed respite from the world's demands. Guisset's designs will captivate and enchant, while showcasing the meaning of balance and harmony in a world where chaos reigns supreme. It is a celebration of creativity, of the power of colour and light to transform our surroundings, and an invitation to step into a world of endless wonder and beauty.
'Surprise Party! Carte Blanche à Constance Guisset Studio' is on view from 17 April to 13 May 2023
Institut Français Milano
Palazzo delle Stelline,
Corso Magenta 63, 20123 Milan
Maria Cristina Didero is an independent design curator, consultant and author, who has contributed to many publications over the years; she is currently Milan editor of Wallpaper* . Didero has consulted for companies such as Vitra, Fritz Hansen, Lexus, Fendi, Louis Vuitton, Valextra among others. Based in Milan, she works internationally, curating exhibitions for institutions: some of her most recent projects include Nendo: The Space in Between and The Conversation Show at the Holon Design Museum, Israel; FUN HOUSE by Snarkitecture at National Building Museum, Washington D.C.; SuperDesign a project about Italian radical design, NY; Vegan Design, or the Art of Reduction by Erez Nevi and The Fish and The Crowd by Carlo Massoud, Milan. In April 2022 she curated a Mathieu Lehanneur exhibition at the Triennale in Milan called The Inventory of Life, while in July she debuted a project at the MK&G in Hamburg titled Ask Me if I Believe in the Future, alongside a series of ongoing collaborations. She was appointed 2022 Curatorial Director of Design Miami/. She is currently preparing two projects for Milan Design Week 2023.