Year in review: beauty & grooming editor Mary Cleary picks top 10 wellness stories of 2021
Wallpaper's Mary Cleary reveals her top 10 wellness stories of the year, from laughter meditation classes to architectural running tours and doggie wellbeing wonders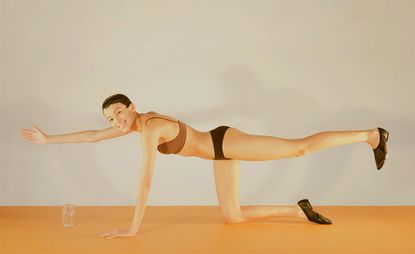 (Image credit: Romain Duquesne)
It is officially the New Year and for many that means it is officially time to re-evaluate their physical and mental health. While gym memberships or new diets tend to be the go-to solution, maybe this new year demands a new approach to wellness.
We rarely take a standard approach to things here at Wallpaper* as this edit of wellness stories from the past year attests. Why not kick off 2022 by learning how to do laughter mediation with New Age musician Laraaji, or revamp your daily run by turning it into an architectural city tour? Could you whip up a homemade face mask recipe by Guy Morgan, or create a home gym using our design-minded guide to workout equipment? All this and more is here, so read on and Happy New Year.
Top 10 wellness stories of the year
01. A guide to laughter meditation with Laraaji
In this article the experimental musician – who has collaborated with Grace Wales Bonner and Solange – shares exercises for achieving happiness in just 15 minutes.
In addition to being the godfather of New Age music, Laraaji has spent decades teaching laughter mediation classes, and this step-by-step guide is an at-home version of his famed sessions. Get ready to get laughing.
02. Building muscle: London architecture walks and runs
Lockdowns have engendered some creative means of keeping fit outside of the gym. This London running route is a prime example of how you can reformat your daily workout to provide some physical and intellectual edification.
Reacquaint yourself with the city's iconic brutalist architecture using one of these three run or walking tours. Those based elsewhere can use the guides as inspiration for their own architectural explorations.
03. Sleeping beauty: tricks for getting a better night's sleep
Nothing is as fundamental to a healthy mind – and healthy skin – as a good snooze. So what's the trick to a good night's rest? Our bedtime edit helps you make the most of your nightly shuteye with a range of tinctures and tools designed to optimise your sleep.
Read on to discover high-tech body monitors, aromatherapy blends, soothing supplements, and more.
04. Home workout equipment: game-changing designs
The home gym is here to stay, so why not invest in an exercise kit that's as easy on your eyes as it is tough on your muscles? In this article, we've rounded up the best design-minded workout equipment for transforming your living room into a sleek fitness centre in no time.
05. A dog's life: products for peaceful pups (and happy humans)
2021 saw the purchase and rescue of so-called 'lockdown dogs' or 'pandemic puppies' reach new heights and with it the rise of some highly practical, and wonderfully weird, dog products. Treat your canine companion (and yourself) to some extra care, with everything from architect-designed dog houses to CBD treats and luxurious leads.
06. Stretch it: low-impact home workouts
Our 'Stretch it' edit includes the best apps and equipment for recharging mind and body from home. Whether you're cooling down from some intensive cardio or looking to lumber up your limbs after a day at your desk, these tips will help get you feeling better in no time.
07. Baby face: soothing wellness products for kids
Our edit of natural skincare and wellness products for tiny tots features some of the best known names in beauty. Titans of the industry like Dr Barbara Sturm and Bulgari have reconfigured their celebrated formulations to meet the needs of a pint-sized audience. The result is a line of baby beauty products you can feel comfortable using on your little one (and maybe yourself too).
08. Try Guy Morgan's homemade avocado face mask recipe
East London-based apothecary Guy Morgan has garnered a loyal following for his range of all-natural, small-batch Mae skincare formulations. Here he shares an easy at-home remedy for revitalising skin that is especially good to use during the winter months or after days of drowning in the blue glow of a computer screen.
09. Mothers and sons on generational wisdom and self-care
In this special Mother's Day article we asked the founders of three beauty brands – Ormaie, Melyon, and Guy Morgan – and their mums to learn about the generational wisdom that inspired each brand and the lessons they've learned from each other along the way.
10. Blissful spas designed for our Covid-sensitive era
In this round-up, we travel the world to find the best spas for every kind of treatment. From Brooklyn to Bezau, this is a recommended read for anyone looking to kick off their 2022 with a rejuvenating day out.
Mary Cleary is the Beauty & Grooming Editor of Wallpaper*. Having been with the brand since 2017, she became an editor in February 2020 with the launch of the brand's new beauty & grooming channel. Her work seeks to offer a new perspective on beauty, focusing on the pioneering personalities, product designs, and transformative trends within the industry.