Sleeping beauty: tricks for getting a better night's sleep
Celebrate World Sleep Day with this dreamy selection of bedtime technology, accessories, rituals, and supplements, all designed to help you get more rest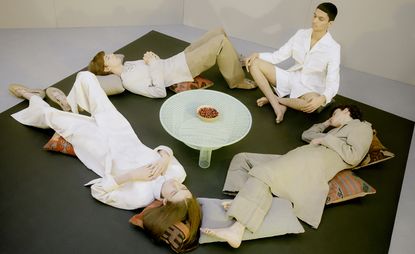 (Image credit: Romain Duquesne)
Wallpaper* Newsletter
Receive our daily digest of inspiration, escapism and design stories from around the world direct to your inbox
Thank you for signing up to Wallpaper. You will receive a verification email shortly.
There was a problem. Please refresh the page and try again.
Nothing is as fundamental to a healthy mind – and healthy skin – as a good snooze.
So what's the trick to a good night's sleep? Our bedtime edit is here to help you make the most of your nightly shut-eye, with everything from high-tech body monitors to aromatherapy tinctures and soothing supplements.
Accessories to help you sleep
Offhours robe
Offhours is a self-titled 'inactive-wear' brand, creating clothes specifically for indoor wear. At least that's what it calls itself since it's adamantly not activewear and more inspired than 'sleepwear.' Their 'Homecoat' is an ultra-comfortable quilted robe that feels like wearing a duvet but looks a lot better. The fact that it's unisex, machine-washable, and pocket-filled makes it all the more practical.
Kate Mcleod sleep stone
Kate Mcleod's 'stones' are solid moisturisers that instantly melt when they come into contact with heat from skin. The stone types vary, with a Mama stone for children, a Naked Stone for intimate use, and a General Stone for everyday moisturisation. The stone's vegan formulation of refined cocoa butter and sweet almond oil is ideal for irritated or ultra-dry skin.
The brand's Sleep Stone is subtly perfumed with a calming mixture of chamomile and lavender. It can be used all over the body for pre-sleep moisturisation or simply dabbed on wrists for instant aromatherapy.
Aesop Aganice candle
Nothing sets the mood faster than a good candle, and so what better to set the mood for a good night's rest than a candle inspired by Aganice, the Ancient Greek astronomer known for her knowledge of the moon and its cycles.
One of the three candles from Aesop's candle collection, Aganice is a dreamy blend of cardamom, mimosa and a light hint of tobacco.
Gingerlily silk pillowcase
Silk pillowcases are an age-old beauty trick. By absorbing less moisture than other fabrics, silk naturally combats hair frizz, reduces the appearance of fine lines, and works wonders for acne sufferers by preventing additional skin irritation and dirt build-up. Gingerlily's pillowcases are made of mulberry silk which contains the same naturally occurring protein that exists in skin and hair, meaning the frictionless fabric keeps hair follicles flat and skin blemish-free.
Chanel nighttime fragrance
Heighten the luxury of a silk pillowcase with a spritz of Chanel's nighttime fragrance, Coco Mademoiselle L'Eau Privée. Almost twenty years since the creation of the original Coco Mademoiselle, L'Eau Privée offers a warmer, subtler interpretation of the classic fragrance, particularly formulated for nighttime wear.
Anatomē sleep oil
Wallpaper* Design Award winners, Anatomē creates sleep-inducing products that cover everything from its signature supplements to sleep masks and candles. We recommend them all, but particularly the aromatherapy tinctures designed with different scents that aid overactive minds, light sleepers, and insomniacs. Pair them with a cup of the brand's 'Recovery + Sleep' loose leaf tea, a cosy blend of chamomile, lemon balm, and passionflower.
Technology to help you switch off
Hästens sleep app
The transfixing glow of a phone screen is the most unhelpful kind of nightlight, and yet it's a familiar presence for many in the hours before finally falling asleep. Yet now, the Hästens Restore app transforms technology into an aid, rather than a hindrance, of good old-fashioned shut-eye. The luxury Swedish bed company has translated its sleep expertise into a series of instrumental soundtracks designed to enhance different moments of the day, from the first moments of waking up to the last seconds before you fall asleep.
Oura sleep monitor ring
The recently launched Oura ring offers an even more high-tech antidote to sleep problems. The ring's unassuming metal exterior conceals a complex network of micro-sensors that monitor body signals like body temperature and respiratory rate to generate an in-depth sleep profile. Upon waking, users can check the Oura app for a breakdown of their sleep time, sleep latency (how long it takes to fall asleep), and sleep efficiency. After a few weeks, the ring offers insight on your optimal sleep time and 'readiness' scores that estimate how the previous evenings' sleep will impact your day.
Bedtime rituals for a good night's sleep
The Seated Queen cold cream
Cold creams might seem like a beauty practice of the past, but there's a reason your grandma used them and there's a reason you should too. The Seated Queen seeks to upend common perceptions of cold cream with its trendy visuals and sustainable production practices. This one-product-only brand creates its signature cream with a combination of essential and cold-pressed seed oils, to provide a relaxing, cool-to-the-touch sensation upon application. Just like the cold creams of yesteryear, it's a versatile product that can be used as a make-up remover, facial mask, or overnight mask.
Dreem Distillery x Sarah Bradden ear seeds
We're big fans of Sarah Bradden's ear seeding treatments out of Hershesons salon in London and even bigger fans of her ear seeding crystals, which can be applied at home and pressed throughout the day to activate the benefits of auricular acupuncture.
Now, Bradden has collaborated with Dreem Distillery on a kit specifically created to improve sleep. Use by applying ear seed crystals to specific points around the ear that directly correspond to specific organs and emotions to promote sleep; and apply the Dreem Distillery Bed Balm to active pressure points like the ears and temples to support relaxation and a deeper sleep.
The Nue Co magnesium spray
The Nue Co Magnesium Ease spray combats the common problem of magnesium deficiency with a blend of high-concentrate magnesium chloride, calming lavender, and anti-inflammatory arnica oil. Magnesium deficiency has been connected to poor sleep quality, muscle cramps, and nerve pain. A simple spritz of The Nue Co's spray delivers 45mg of magnesium that is instantly absorbed through the skin, relaxing tension and preparing the body for rest.
Supplements designed to encourage sleep
Votary sleep supplements
English skincare brand Votary knows that a healthy complexion is impossible without some quality shut-eye. For those who struggle to achieve beauty sleep, the brand has created a 'Super Sleep' supplement with serotonin-producing L-Tryptophan and L-Theanine, as well as lemon balm and magnesium for natural relaxation.
Mineral sleep CBD
For a plant-based option, Mineral's Sleep tincture blends CBD with notes of cedarwood and Californian pine to conjure up the sensation of sleeping among the Redwoods from the comfort of your mattress.
Receive our daily digest of inspiration, escapism and design stories from around the world direct to your inbox
Mary Cleary is the Beauty & Grooming Editor of Wallpaper*. Having been with the brand since 2017, she became an editor in February 2020 with the launch of the brand's new beauty & grooming channel. Her work seeks to offer a new perspective on beauty, focusing on the pioneering personalities, product designs, and transformative trends within the industry.
With contributions from