Dog products for peaceful pups (and happy humans)
Pamper your pup with our edit of the best dog products, from Martha Stewart's CBD gummies to dog houses designed by Kengo Kuma and Asif Khan.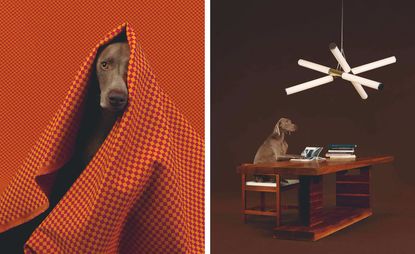 (Image credit: William Wegman)
These playful dog products- from feeder bags, to water bowls, beds, and more- are sure to make any dog (and dog owner) happy. Explore the full shoot.
Marine Serre harness
Look across the expanse of any buzzy urban neighbourhood and you are practically guaranteed to spot someone wearing Marine Serre's crescent moon clothes. Move your eyes a little bit closer to the pavement and you might even see an equally fashionable pooch in the French designer's up cycled streetwear too.
That's because Serre has launched a new line of pet wear that includes dog t-shirts and harnesses in washed denim, black viscose, and red and black moons. Each pieces come with adjustable webbing straps with press-release fastening so that they can be fitted to a variety of dog sizes, while the harnesses come equipt with zippered pockets perfect for transporting treats.
Alessi dog bowls
Give your dog a taste of la dolce vita with these wonderfully campy dog bowls from Alessi. The iconic Italian brand commissioned designer Miriam Mirri to create the bowls, which are made thermoplastic resin and stainless steel.
Architecture for Dogs doghouses
Being in the doghouse is now a good thing thanks to Japanese designer Kenya Hara. Hara launched Architecture for Dogs in 2012, with the aim of creating doghouses that were as pleasurable for owners to look at as they were for dogs to inhabit. Contributors to the project included world-renowned architects like Kengo Kuma, Konstantin Grcic, Asif Khan, Ma Yansong, and more. A blueprint for each of the houses is available as a free download on the Architecture for Dogs website, along with helpful how-to videos for building your dog home at home.
Kassel Editions dog carrier
Amsterdam label Kassel Editions is best known for its fisherman-style jackets and puffy totes that are made from durable, workwear materials like rubber and oilcloth. Now, the brand is branching into pup purses with a rework of their classic tote into a carrier bag for dogs. Available in both medium and large, Kassel Editions' dog bag comes with internal pockets for treats and leashes and is made of oil-coated canvas that is durable enough to survive any dog-inflicted wear and tear.
Martha Stewart's CBD drops
It's no secret that Martha Stewart knows a lot about food. She also knows a lot about animals, with four dogs, three cats, canaries, peacocks, horses, geese, and over 200 chickens. Cannabis too, is an area of expertise, as evidenced by her recently launched CBD line and her 'potluck' themed dinner party show with Snoop Dogg.

Now, Martha's mastery of all these fields has come together to create something unexpected – a line of gourmet CBD dog products. The range includes CBD chicken and cranberry flavoured chews designed for 'helping dogs cope with everyday stress,' chicken and blueberry gummies for maintaining the joint health and mobility of dogs, and chicken flavoured 'well' drops formulated to improve the wellbeing of dog's while being gentle on sensitive stomachs.
Between Two Naps head pillows
New York-based creative director Rajeev Basu created 'Between Two Naps' as an ode to his own sleepy pup. The project features five different types of pillowy helmets, ideal for dogs who like to rest their heads down pretty much anywhere.
City-slicking hounds are perfectly suited to the shiny black puffer style of the 'Nappo' helmet or the camo-print snapback 'Undercovers.' While the kitschy absurdity of 'Sleepover XL,' simply a pillow affixed to the top of a dogs head, is practically useless for pups but entirely amusing for their owners.
Aesop animal wash
Wouldn't it be great if snuggling up to your beloved pooch was the olfactory equivalent of walking into an Aesop boutique? If that sounds like a dream come true, you're in luck. Aesop's 'Animal' cleanser is infused with lemon rind, tea tree leaf, and spearmint leaf to naturally clean and deodorise fur, leaving behind a scent so nice you might wish you smelled the same. If that's the case, the 'Animal' wash doubles as hand soap for humans too. A calming treat for pup and pup-parent alike, the natural ingredients are thoughtfully combined for even the most sensitive skin.
Loewe's leather feeder bag
A dog's life has never been so luxurious, thanks to Loewe's brown leather feeder bag. Complete with a stainless-steel bowl, matching water flask, a leather leash, and a wool blanket covered in the brand's signature logo, is an exceedingly stylish accessory for your routine walk in the park.
Fable's home set
Fable's Home Set is an easy, all-in-one kit for making pets feel at home without sacrificing the look of your own. The kit includes a simple, solid-coloured bed and water bowl, cleansing wipes made with entirely-organic ingredients, and the brand's signature Falcon toy which simultaneously entertains and treats cavities. All of Fable's products are inspired by the simplicity and efficacy of Scandinavian design, making them a suitable addition to any modern pet-owners home.
Malin+Goetz shampoo
It takes a dog lover to know what dogs need, which makes the duo behind Malin+Goetz skincare well equipped to create their brand's dog shampoo. Matthew Malin and Andrew Goetz made the shampoo with their own beloved pug, Mr Greenburg, in mind, devising a formula of natural botanical extracts and amino acids that effectively cleans the skin while keeping fur soft and healthy.
Receive our daily digest of inspiration, escapism and design stories from around the world direct to your inbox
Writer and Wallpaper* Contributing Editor
Mary Cleary is a writer based in London and New York. Previously beauty & grooming editor at Wallpaper*, she is now a contributing editor, alongside writing for various publications on all aspects of culture.