Visit the Hudson Valley garden of Malin+Goetz
The duo behind beauty brand Malin+Goetz talk skincare and gardening from their Upstate New York home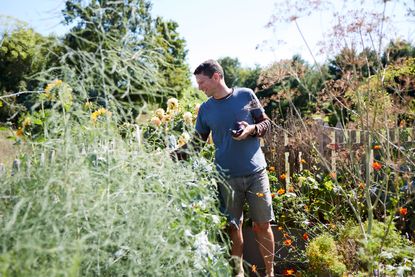 (Image credit: malinandgoetz)
Since they opened their flagship New York store in 2004, Matthew Malin and Andrew Goetz's eponymous skincare brand has offered a contemporary take on the products and practices of old-school apothecaries. Malin's previous career in beauty buying led him to recognise the need for natural, locally-sourced formulations, while Gotez's past experience working with Vitra informed the brand's distinctive graphic packaging.

Almost 20 years on, Malin+Goetz has become a skincare empire with products spanning skin, body and hair care. Speaking from their home in New York's Hudson Valley, the duo share their secrets for garden-grown beauty and methods for cultivating calm during lockdown.
Can you share a bit of background on the brand? How did you two meet? What was the impetus for starting Malin+Goetz?
We met in a bar, 28 years ago, in the East Village, in NYC. For the next ten years, I worked in beauty and Andrew in design. Most of the businesses I was working with were successful, family-owned and operated, niche luxury models. During the 1990s, many were sold to L'Oreal, Estee Lauder, etc. It was then that Andrew said to me that we should consider being the 'independent' beauty brand since most were now part of a big corporation. It was sort of a now or never moment…
Since the beginning, natural products have been an integral part of your skincare formulas. Has spending time in the Hudson Valley enriched your knowledge of natural products in any way?
Not necessarily enriched but it has definitely inspired us in new ways. For instance, we have perfect growing conditions for tomatoes and love them. So, after ten years of growing tomatoes, we finally thought, let's make a tomato candle so that we can smell tomato all year!
All of your products are locally made in the New York area. Can you speak a little bit more about how you find your suppliers and what ingredients they provide? Why did you find it important to keep this process local?
Luckily for us, much of the U.S. beauty business is centered around NYC. That includes manufacturing and having developed my career in beauty in NYC offered access. Most importantly, we wanted to work with like-minded people – smaller specialty businesses that are often family-owned and operated. When you are starting out, it is difficult to afford more, and developing these relationships was personal and synergistic. Finally, sustainability and 'local' have been our mantra since conception. It feels right for who we are and what we do.
Many people are experiencing the effects of lockdown on their skin, especially now that we're getting less sun and might be feeling more stressed than normal. Do you have any suggestions for maintaining healthy skin during this period?
Basic, daily skincare, like eating healthy and exercising, is hard work. We live with the idea of keeping it simple and DOING IT. Wash your face and moisturize it, every day, twice a day – in lockdown or otherwise. It's hard work.
Are there any particular foods or plants people can grow in their own gardens for beauty-boosting benefits? How should they use them?
Yes, there are many. Recently, I was complaining to a fellow gardener about feeling tired and off, and, (socially distancing in my garden) she said, well, pick some of your lemon balm, make some tea and take a bath. Your inside, outside and mind with thank you.
How has gardening particularly helped you maintain mindfulness? Is there anything you're growing at the moment that you're especially excited about?
This Spring we planted about ten new fruit trees to add to a growing orchard. They are small tips, mostly, but gardening is about patience. We are excited to watch them grow – and it happens faster than you think –and be productive on our land. Nurturing growth with unexpected challenges helps keep the mind centered and offers perspective. Nature, even at its worst, offers renewal and such beauty.
Malin+Goetz has such distinctive, apothecary-like packaging. Can you speak a little bit more about how you developed the design?
I brought beauty and Andrew design. The idea of our brand was to modernize the traditional neighborhood apothecary. The packaging is the complement to that idea or a modern-day chemist's label. We wanted something that looked and felt timeless and would be coveted 100 years from now.
You mentioned that your candles can be repurposed as cocktail glasses. Any favorite cocktail recipe you suggest for an at-home happy hour?

Well, in our less is more fashion, we are happy with a beautiful dark rum on the rocks. Easy, uncomplicated, and effective.
INFORMATION
Mary Cleary is the Beauty & Grooming Editor of Wallpaper*. Having been with the brand since 2017, she became an editor in February 2020 with the launch of the brand's new beauty & grooming channel. Her work seeks to offer a new perspective on beauty, focusing on the pioneering personalities, product designs, and transformative trends within the industry.