Japanese florist Azuma Makoto creates botanical sculptures for Dior Parfums
Azuma Makoto, the floral artist who started Tokyo's 'flower butchery' and sent a bonsai tree into space, debuts his new collaboration with Dior Parfums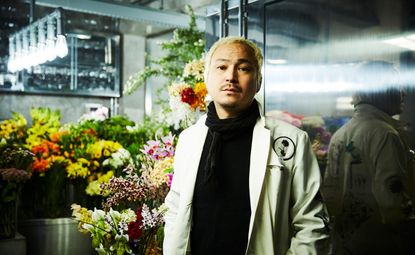 (Image credit: dior.com)
Japanese florist Azuma Makoto thinks flowers are like prayers. 'From birth to anniversaries, birthdays, weddings, sympathy, encouragement, and even death, we entrust our various emotions to flowers and live with them,' he says.
'When I work with flowers every day, I notice that flowers are never arranged with one hand, but always with the other hand. It looks as if I am praying, and I feel that this is in line with prayer, because I actually bind the flowers as if I am entrusting my feelings to them.'
Makoto's singular and devotional approach to flowers makes him one of the most intriguing creatives working in floristry today. His Tokyo store, Jardins des Fleurs, is fashioned as a 'flower butchery', where white-coated employees remove 'living' flowers from a fridge in the centre of the store, before cutting and arranging them on steel tabletops.
Past projects include freezing blocks of flowers for Dries Van Noten, shooting a 50-year-old bonsai tree into space, and, now, a collaboration with Dior Parfums on a series of 'botanical sculptures'.
For this latest collaboration, Makoto has created eight sculptures, each inspired by a classic fragrance from Dior's La Collection Privée perfume library and photographed by Makoto's friend and long-time collaborator Shunsuke Shiinoki. The final collection of photographs is a series of compelling works that visualise the otherwise ephemeral fragrances.
'The fragrances in La Collection Privée Christian Dior are full of the beauty and richness of floral scents that intersect and mix,' says Makoto. 'I wanted to visualise those images of flowers in a lot of layers.'
Fragrances such as Sakura are expressed through a verdant profession of cherry blossoms and other pink flowers. The fragrance is inspired by the moment in the spring when the flowers of the cherry tree burst into blossom and so Makoto chose to create 'a very light, subtle pink-coloured universe that truly symbolises the keen yet understated sense of beauty that we have in Japan'.
Other creations see a great mix of colours and flower types, such as the sculpture for Oud Rosewood, a smoky, woody fragrance that Makoto recreated through shades of brown, 'and soft creamy flowers with rounded shapes, illuminated by a touch of precious sparkle'.
'I believe that flowers have a mysterious power to appeal to people's deepest inside emotions and memories, not just superficial ones,' says Makoto. 'They are not simply beautiful. They are mysterious, and are essential for humans, birds, bugs, animals and for all creatures equally. I think every kind of flower, at every moment of its life, is venerable and beautiful in its own existence.'
INFORMATION
dior.com (opens in new tab)
Mary Cleary is the Beauty & Grooming Editor of Wallpaper*. Having been with the brand since 2017, she became an editor in February 2020 with the launch of the brand's new beauty & grooming channel. Her work seeks to offer a new perspective on beauty, focusing on the pioneering personalities, product designs, and transformative trends within the industry.