At Zabludowicz Collection, artists test the parameters between authenticity and artifice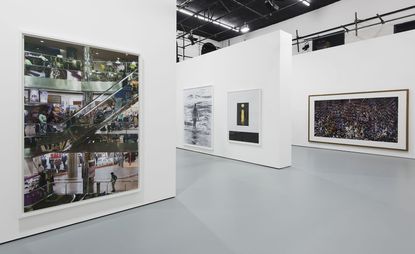 (Image credit: Thierry Bal)
Fact or fiction? That's the main question posed by a curious new exhibition of contemporary photography at the Zabludowicz Collection in London. On view until 9 July, 'You Are Looking At Something That Never Occurred' draws from the gallery's archive to present seminal works by 14 artists who use the camera to test the parameters between past and present, authenticity and artifice.

The timing is apt. Today, as the instant image becomes so familiar it verges on mundane, the show provides a considered meditation on the innovative 'slow' methods of picture-making that artists such as Cindy Sherman, Jeff Wall, Lucas Blalock and Thomas Ruff have employed to engage, mystify and surprise us.

Techniques – some analogue, others digital – vary dramatically throughout. For example, Sherman's ground-breaking Untitled Film Still #41 (1979), which opens the show and depicts a staged set-up of the artist as a glamorous actress in a striped bathing suit, displays a grainy texture, achieved by accident when the top came off the can of film she was developing. While Lucas Blalock, who has several riveting works on display (see: Gaba with Fans, 2012) has developed a unique process that fuses analogue photography, collage and Photoshop.
High notes include the UK premiere of Soft Film (2016), a 16mm film shot on video by young New York-based talent Sara Cwynar. Combining found footage with items found on eBay, a pastel-hued studio set-up and fragments of text, the artist explores how objects of desire can lose or gain attraction over time. 'Her work is a fascinating reflection on the powerful remnants of the photographic process,' reflects the exhibition's curator Paul Luckraft. 'I admire her sensitive attention to the life of images and objects over time.'

The way in which Anne Collier skilfully re-photographs existing images of American pop culture from the 1960s, 70s and 80s using a large-format plate camera is similarly intriguing. It's as easy to lose yourself in her large-scale Positive (California) (2016), as it is decoding the hidden poems of Natalie Czech that are hung on the adjacent wall.

Yet, however diverse, all of these works demand a closer look. They urge the viewer to slow down, take stock and re-evaluate their certainty – a valuable quality in this day and age.
INFORMATION
'You Are Looking At Something That Never Occurred' is on view until 9 July. For more information, visit the Zabludowicz Collection website (opens in new tab)
ADDRESS
Zabludowicz Collection
176 Prince of Wales Rd
London NW5 3PT
VIEW GOOGLE MAPS (opens in new tab)