'82 Portraits and 1 Still-life': David Hockney returns to the RA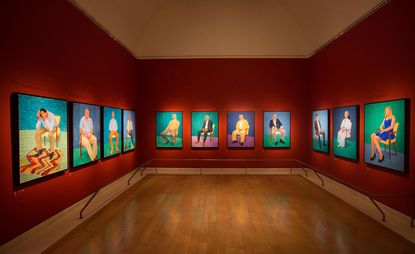 (Image credit: press )
With the success of his 2012 landscape exhibition at the Royal Academy of Arts still looming large, David Hockney returns once more to the RA. This time, he's occupying the Sackler Wing, with an intimate exhibition of recent portraits.

Painted over the last two and a half years in Hockney's studio in Los Angeles, the exhibition is a window into his life in the City of Angels, with the subject of each portrait personally invited by the artist to sit for him. They range from friends and family to acquaintances and staff, and include recognisable figures such as Larry Gagosian, Jacob Rothschild, Frank Gehry and Celia Birtwell, as well as Hockney's siblings.

Though the number of portraits is expansive, each has been created with a sense of uniformity; all are painted on the same size canvas within three days, and depict its subject seated in the same chair against a bright blue background. In doing so, Hockney aims to place emphasis on the personalities of his subjects, as well as his own development in the medium of acrylic paint. To highlight this progression, the works are hung chronologically throughout the galleries. The exhibition is curated through a close collaboration between Edith Devaney, curator of contemporary projects at the RA, and Hockney himself.

In addition to the portraits showcased, the RA will also release an illustrated book containing interviews with the artist, photographs of several of the paintings in the process of being completed, and an exploration of Hockney's portraiture by Tim Barringer, Paul Mellon professor of the history of art at Yale University.
INFORMATION
'David Hockney: 82 Portraits and 1 Still-life' is on view until 2 October. For more information, visit the RA's website (opens in new tab)
ADDRESS
The Sackler Wing
Royal Academy of Arts
Burlington House
Piccadilly
London, W1J 0BD