Record and trace: 'Voces: Latin American Photography' at Michael Hoppen gallery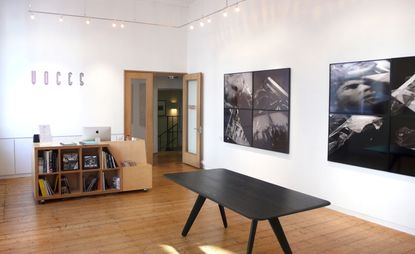 (Image credit: press)
'Voces: Latin American Photography 1980–2015', a new photographic survey at London's Michael Hoppen gallery (opens in new tab), is clearly ambitious in scope. Works here, assembled by Chilean curator Chantal Fabres, are by seven artists from Argentina, Chile, Mexico and Brazil. It is a vast area to cover in time and space.
There is a particular political charge to the exhibition, of course, and a particular way of looking at what's on show. What is photography for? And how has it been used in an area where both truth and collective memory have been repressed and erased by dictators and juntas – whose comic epaulettes belie sophisticated terror – and where troublesome citizenry were 'disappeared'? But, as Fabres says, that is anything but the whole story and conversations about Latin American art are too readily framed by this political history. The work here is varied and reflects varied histories; it is from Latin American rather than of Latin America. And yet, you are made constantly aware that photography, as record and trace, does mean something different in Latin America.

The Argentinean photographer Marcelo Brodsky is perhaps the most explicitly political of the artists here, intent in some ways on summoning up the disappeared, including his own brother. The work of Chilean artist Nicolás Franco is marked by analogue post-production techniques, wrapping pre-existing images and film stills, from Buñuel surrealism to low budget erotica, in plastic film and then reshooting them. The Brazilian Anna Bella Geiger explores ideas around culture, geography, cartography and identity in various media. Mexican artist Jonathan Hernández de-captions and re-contextualises newspaper and advertising imagery. Chilean artist Andrés Durán digitally subverts pompous monuments in his native Santiago. Leonora Vicuña creates elegies to neighborhood bars and restaurants, and their irregular regulars.

Perhaps the show's standout though is Rosãngela Rennó. For years, Rennó has collected piles of negatives and played technical tricks on them. She cares little for the history of these found or rescued images, only that they survive as traces of something. At 'Voces' she presents found images printed on gauze and then lit and layered to mesmerising effect.
INFORMATION
'Voces: Latin American Photography 1980–2015' is on view until 9 January 2016
ADDRESS
Michael Hoppen Gallery
3 Jubilee Place
London, SW3 3TD
VIEW GOOGLE MAPS (opens in new tab)