Masahisa Fukase and the sorrow of lost love, solitude and death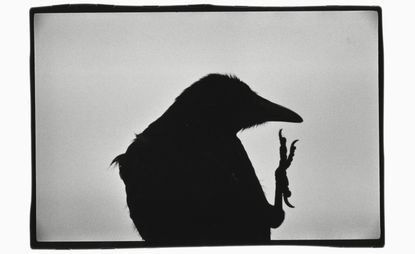 (Image credit: Masahisa Fukase Archives. Courtesy of Michael Hoppen Gallery)
Masahisa Fukase's sorrow seeps through his later photographs like a poison: painful, suffocating, and all consuming. For eight years, the Japanese photographer obsessively captured ravens in his native Hokkaido, vainly seeking an antidote to the venom of a failed marriage.

His second wife and muse Yōko left him in 1976, and a mournful Fukase careened into a crippling depression. Drinking heavily, the photographer found refuge in the birds that flocked around his local train station. Published in 1986, the photobook Ravens (or Karasu) was born from his heartbreak. Now, a rare collection of prints from this seminal series has been unveiled in a new exhibition opening this week at Michael Hoppen Gallery in London.

The grainy, monochromatic images make for compelling viewing. Ravens are considered ominous creatures in Japan and Fukase's pictures are stained with a uneasy sense of misadventure. His portentous ravens are occasionally interjected with other subjects – the swollen underbelly of a passing aeroplane, for one – but they feel no less ill fated.

In one of the show's most powerful photographs, the gnashing jaws of a garbage truck are captured mid-fury; rubbish trails across the sky with the same violence as a battlefield explosion. The image is an enigma much like Fukase, who seems to have captured it from inside the mouth of the beast-like vehicle.

The exhibition is a rare chance to see works printed by Fukase himself – a show with this many master prints is unusual. It offers a faint bond to the photographer, whose melancholy makes him seem otherwise unattainable.

It took six years to convince Fukase's family to consent to the exhibition, explains gallery owner Michael Hoppen of the undertaking. 'It's a strange life, but an extraordinary body of work,' he says of Ravens. 'This project is bigger than us, it's bigger than the gallery.'

The London gallery has also loaned prints from Fukase's Bukubuku – a self-portrait series shot in his bathtub – to the Tate Modern for its show, 'Peforming for the Camera'. Hoppen explains: 'Bukubuku is all about him. They're auto-portraits, or rather, auto-emotional portraits, because he found it very easy to express himself through his photographs.' Like in Ravens, he seems a man possessed by an inescapable grief.

Ravens has previously been called the best photobook of the last 25 years, drawing universal acclaim from photography critics and Fukase's peers alike. 'He had legions and legions of followers,' says Hoppen. 'Certainly with him there's tremendous reverence and fondness not only to this man but also to this body of work. It's a shining beacon to many [photographers].'

Fukase was never able to escape the harbingers of misfortune he orbited so closely during Ravens, even though he eventually remarried. He had spent over half a decade circling the fringes of death and decay with his camera, before finally relinquishing the project in 1982 and declaring that he had 'become a raven'. In 1992, he fell down the stairs of his favourite Tokyo haunt and spent the next – and final ­­– 20 years of his life in a coma. The ravens had come to claim him at last.
INFORMATION
'The Solitude of Ravens' is on view until 23 April. For more information, visit Michael Hoppen Gallery's website

Images © Masahisa Fukase Archives. Courtesy of Michael Hoppen Gallery
ADDRESS
3 Jubilee Place
London SW3 3TD