The art of posing: 'Performing for the Camera' at Tate Modern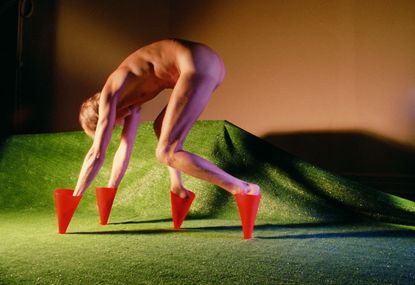 (Image credit: Jimmy De Sana)
Unless you're Kate Moss, having your picture taken can be an uncomfortable experience. We overcompensate by falling back on awkward half-smiles and girly duck-pouts. Whatever your grimace of choice, posing for a photograph is an innately performative act. With this in mind, Tate Modern's major spring exhibition questions what it means to say 'cheese'.

'Performing for the Camera' leaps straight into the golden age of performance art, with Yves Klein's famous image Leap into the Void. Emphasising the staged trickery of the photograph, the curators have chosen to position the 'making of' images alongside the seminal shot. Here, it is revealed Klein isn't actually leaping to his death – a group of subsequently edited-out friends are nervously waiting to catch him in a sheet.

This photograph, along with dozens of others featured in the first half of the show, come from a collection donated to Tate last year by photographers Harry Shunk and János Kender. Now, the walls of the gallery tell tales of the couple's obsession with live performance art. Bodies twist, dance and peacock, and their cameras are the audience.

As the show progresses, the performative aspect of the images gets more and more disrupted, and difficult to define. We journey through obscure byways of performance portraiture's history – passing holiday snaps taken from relatively unknown photographers, alongside defining images from the likes of Joseph Beuys and Francesca Woodman.

Despite this broad scope of images, a sense of humour unites the exhibition – much of it centred around nudity. This is expressed in Jimmy De Sana's Marker Cones, where he is pictured strutting on all fours, with what looks like party hats on his hands and feet. But on-camera performance doesn't just mean jumping off buildings and clowning around naked. As much as the exhibition is united by levity, a darker undertone sneaks in, through Japanese photographer Masahisa Fukase's quiet, muted images of himself in a tepid-looking bathtub. He performs loneliness just as evocatively as De Sana performs comedy.

Fukase isn't the only artist posing for his own images. A whole room in the gallery is devoted to the 'Self / Portrait' – where photographers perform on both sides of the camera. As selfie-culture becomes ingrained, more and more gallery space is being given up to the trend. We've already seen Amalia Ulman's Instagram-focused 'Excellences & Perfection' in London this month at the Whitechapel Gallery. She appears again here, flouting her own ironic brand of voyeurstic sexuality in that all too familiar mirror pose, iPhone camera in hand.

A selfie was also picked as the principle advertising image for the exhibition – and it has been plastered all over London. The picture is taken from Romain Mader's staged series that depicts him clumsily posing with mail-order brides. He explains his reasoning for making himself the protagonist: 'It's too easy to mock people. It's better to pose myself and be the main character in my work. This way, there's irony and vulnerability.'

Mader's sentiment rings true throughout the exhibition – as much as the highly performative images of theatric, extrovert bodies are beautiful and striking, the portraits that stick with us are those that reveal an honest, relatable vulnerability.
INFORMATION
'Performing for the Camera' is on view until 12 June. For more information, visit Tate Modern's website
ADDRESS
Tate Modern
Bankside
London, SE1 9TG
Elly Parsons is the Digital Editor of Wallpaper*, where she oversees Wallpaper.com and its social platforms. She has been with the brand since 2015 in various roles, spending time as digital writer – specialising in art, technology and contemporary culture – and as deputy digital editor. She was shortlisted for a PPA Award in 2017, has written extensively for many publications, and has contributed to three books. She is a guest lecturer in digital journalism at Goldsmiths University, London, where she also holds a masters degree in creative writing. Now, her main areas of expertise include content strategy, audience engagement, and social media.