Neighbourhood watch: Eamonn Doyle hones in on Dublin's streets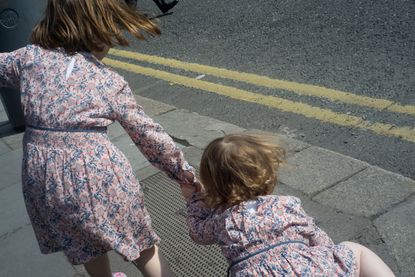 (Image credit: Pictured: END. Orange, 2016. Courtesy the artist and Michael Hoppen Gallery)
While photography has opened the door to exotic, far-flung locales, for some, inspiration hits a little closer to home. Take the Irish photographer Eamonn Doyle, who has had to look no further than his doorstep for his first solo London exhibition at Michael Hoppen Gallery, entitled 'End.' – the third and final chapter in a series of projects exploring the multi-cultural, working class area of north Dublin's Parnell Street.

Born in Dublin in 1969, Doyle began photographing around the city centre in the late 1980s, before embarking on a hiatus a decade later in order to concentrate on music production. He returned to photography in 2008 after a reflective period of rediscovering Samuel Beckett's writings.

'Returning to photography in recent years, I set out to work with what I knew,' Doyle explains. 'As a long-term resident of Parnell Street in Dublin's north inner city, there was a wealth of photographic subjects on my doorstep. At times it's edgy and raw and vibrant, while at others, it seems half-sunk in a weary pathos.'

Elusive fragments of Dublin's streets come to the fore in Doyle's work as he hones in on fleeting details. 'While photographing, I began to strip away as much of the context and background from the subjects as I could. The subjects are all shot at close range, but respectfully, perhaps even reverently,' Doyle has said. 'The pictures show only fragments of possible narratives, but for me, every life has weight and drama, even if its meaning is ultimately elusive.'

Whereas 'i' – the first chapter in the trilogy – traces a colourful cast of anonymous, lone figures, and 'ON' casts the city's denizens in dramatic, black-and-white scenes, 'End.' is both a natural combination of and conclusion to its predecessors. Like a forensic investigator, Doyle isolates fragments he deems important; each image is a clue that forms part of a larger picture of the city. Obscured through flowers, a child gazes into the pool at the Garden of Remembrance, while another image takes on an almost painterly quality in its abstract composition. The series revels in anonymity, stripping away all social, contextual and biographical cues.

Add to the mix an ongoing collaboration with fellow Dublin artist Niall Sweeney, who punctuates Doyle's photographs with drawings, and the city becomes a labyrinthine tangle of transient narratives. Through Doyle's lens, these seemingly mundane urban encounters become curious and fascinating.
INFORMATION
'End.' is on view until 15 July. For more information, visit the Michael Hoppen Gallery website (opens in new tab)
ADDRESS
Michael Hoppen Gallery
3 Jubilee Place
London, SW3 3TD
VIEW GOOGLE MAPS (opens in new tab)