Through the lens of Wallpaper* contributor Gabby Laurent
'Through the lens' is our monthly series that throws the spotlight on photographers who are Wallpaper* contributors. Here we explore Gabby Laurent's vision further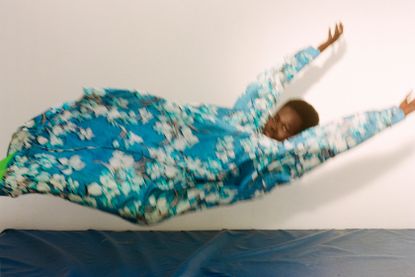 (Image credit: Gabby Laurent)
Whether homing in on a gesture or exploring the constructed relationship between photographer and subject, London-based Gabby Laurent's perspective is always curious. For our January 2021 Next Generation issue, Laurent and stylist Sam Ranger joined forces for our main fashion story, featuring womenswear from the S/S21 and resort collections: eclectic prints, bold blocks of colour, refined ruffles, fine fringing, and a crash mat. Laurent gained an MA in Photography from Plymouth University in 2017, and has since combined her attentive approach with performance and spontaneity. While well recognised for her art practice, she has also shot for the likes of Bulgari and Simone Rocha.
Wallpaper*: Describe your style and process
Gabby Laurent: My work is based in performance and photography. Repetition is also a recurring theme for me: a repeating action with different outcomes. For example, in the 'falling' work, the images are of me repeatedly falling over. There is a slapstick humour that's engrained in this action but when repeated it starts to become more tragic. I think ideas become more clear through repetition, or at least people understand you are trying to tell them something if you labour a theme again and again!

When I'm working with people, I tend to observe them to find a posture or gesture that feels natural. This usually happens when we are talking, when they don't feel the pressure of performing for the camera. Someone told me recently that my pictures were the first time they recognised themselves in a photograph; that the image reflected who they feel they are. I think that is the best compliment for a portrait.

Whatever work I'm making, I like to be intuitive in my process. This doesn't mean you don't have to put time and thought into what you are doing, but just to follow your intuition and make the work. Trust that there is a recurring theme that flows through as it all comes from you.
W*: Tell us about how you brought your way of working to our January 2021 main fashion story
GL: Holly [Hay, Wallpaper's photography director] asked me to make a fashion story based on performative work that l have been making in my studio for some time. It was great to have an opportunity to put my personal practice into an editorial context and I'm very grateful to her for that.

The work is partly performance-based, where the model is throwing herself on to a crash mat repeatedly. I shot on film and really enjoyed the chance involved: whether the clothes looked good, what the shape was like, whether the model was contorting her face – that manufactured abandonment. This element forges a lack of control and is really important to me, especially in a situation where minute detail is usually controlled. Saying that, there is a definite negotiation involved with making editorial work: the magazine and the stylist can't leave it all up to chance so there are some more calm moments in there too.
W*: What do you think is the most interesting thing happening within photography now?
GL: The democratisation of visual perspectives. From those making the work to the online auctions making it affordable to hang art in your home while supporting artists and causes. Also, A Vibe Called Tech is a creative agency founded by Charlene Prempeh, which promotes culturally diverse creativity and culture. She [Prempeh] is doing really exciting projects.
W*: What's on your radar?
GL: I've been looking at a Hungarian poet and performance artist called Katalin Ladik. Also, a painter called Shannon Cartier Lucy who makes these really surreal but suburban-looking scenes that I'm obsessed with. Also, Rebecca Ackroyd has a show of her paintings opening in Berlin at Peres Projects on 15 January that I hope to get over there for.
W*: What's next for you this year?
GL: I'm working on a book with Loose Joints, which will come out this year. I'm also in a compendium that's just been published by Saint Lucy called Running, Falling, Floating, Flying, Crawling. It focuses on the human body in states of abandonment or terror and features an incredible list of artists and writers. Susan Bright wrote about a series of mine that was made between 2018 and 2019 called Falling, which was about letting go, grief and a lack of control. I love her writing so I'm really honoured.

The Falling series was put on hold when I 'fell pregnant' last year, which led to another piece of work. I really wanted to show the pregnant body as one that was powerful, rather than the passivity that is usually portrayed. I'm so excited that it's being used as the cover of Hot Potato's third issue.
INFORMATION
gabbylaurent.co.uk (opens in new tab)
Sophie is currently Photography Editor at Wallpaper*. Sophie joined the team following the completion of her photography degree in 2018, and works with Photography Director Holly Hay, where she shoots, commissions, produces, and writes on photography. Alongside this, she continues her art practice as a photographer, for which she was recently nominated for the Foam Paul Huf Award. And in recognition of her work to date, Sophie was nominated by the British Journal of Photography for the Futures photography platform in 2021.
With contributions from