Through the lens of Wallpaper* contributor Alex Colley
'Through the lens' is our monthly series that throws the spotlight on emerging photographers who are Wallpaper* contributors. Here we explore their vision further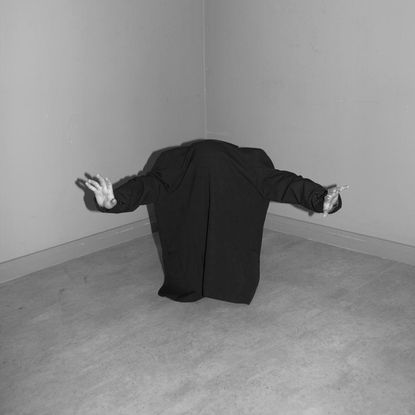 (Image credit: Alex Colley )
UK-based Colley's playful, performative and research-based approach to photography has seen him compose striking images using film, sound and archival material. A recent graduate from the BA Documentary Photography course at the University of South Wales, he has since been shortlisted for the international Guernsey Photography Festival competition and the De Pietri Artphilein Foundation Photobook prize. Having featured in the Wallpaper* Graduate Directory earlier this year, Colley found it a 'completely surreal experience' to shoot our men's tailoring story – dense with robust lines and structured shapes – for the May issue, which granted him a 'wonderful and unexpected' creative freedom.
Wallpaper*: Describe your style and process
Alex Colley: Currently, the foundations of much of my work are personal narratives exploring my family and the past. My projects are often self-referential and involve me reinterpreting memories and archival material, examining them within the present. In parallel to this, I also draw upon my own reservations about the future in an effort to inform the work.

My projects are research-focused and linked to the conceptual ideas cemented within the writings of various critical thinkers and philosophers. Although there are conceptual ideas and personal subject matter within the work, it is also heavily concerned with current affairs and universal themes and ideas.

I have a performative, playful approach that often involves self-portraiture that echoes elements of surrealism and film noir. My work is constructed using images, video, sound and archival material.
W*: Tell us about how you brought your way of working to our men's tailoring shoot
AC: Often when shooting personal work, I want the images to feel playful and surreal. So, similarly, with this shoot, I focused on making the images both aesthetically pleasing, jarring but also humorous.
W*: What's the most valuable thing photography has taught you?
AC: It's taught me a lot about the generosity and openness of strangers. Of course, you get the odd person who puts up a wall, but for the most part, if you ask around enough or show interest in something no matter how obscure, you will eventually find someone who equally cares about that subject, then they'll quite often go out of their way to help you out. I'm always immensely touched by these moments. If it wasn't for these people, making work would be even trickier than it already is.
W*: What do you think is the most interesting thing happening within photography now?
AC: That's a tricky one, I'm not too sure. Personally, I always look forward to seeing the people that get announced for the Foam Talent competition. It's a really exciting platform and there's always plenty of interesting and exciting work to look through.
W*: What's on your radar?
AC: I've just finished Mask Off: Masculinity Redefined by JJ Bola, it's an interesting, accessible read and I've recently begun Akira by Katsuhiro Otomo. I've been meaning to read it for a while. It's actually insane to think one person illustrated the whole thing. Musically, I've had MorMor's album 'Some Place Else' on repeat and photographically I've found myself constantly flicking through Jerry Hsu's book The Beautiful Flower is the World, which is providing a well-needed laugh during these strange times.
W*: What's next for you this decade?
AC: I'll continue making work and entering competitions. I'll hopefully be moving up to London later this year and in the near future maybe I'll study for a Master's degree. I was thinking of applying to study at the Royal Academy of Art, The Hague; the Photography & Society course looks really engaging. At the moment though, everything seems largely unpredictable, so who knows.
INFORMATION
Harriet Lloyd-Smith is the Arts Editor of Wallpaper*, responsible for the art pages across digital and print, including profiles, exhibition reviews, and contemporary art collaborations. She started at Wallpaper* in 2017 and has written for leading contemporary art publications, auction houses and arts charities, and lectured on review writing and art journalism. When she's not writing about art, she's making her own.
With contributions from