Precious cargo: the Container Artist Residency program sets sail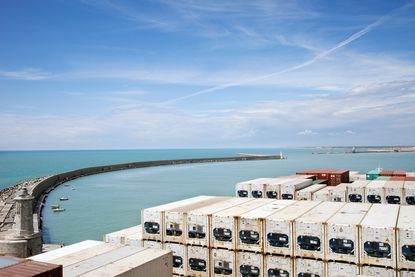 (Image credit: Mayaan Strauss)
Aboard commercial cargo ships is where the Container Artist Residency 01 program is finding its abode. Completely isolated from the rest of the world, the Residency allows its artists to work in a remote space with no tangible lines of communication to the outside world. The residency's geographic location can only be defined in relation to the existing shipping routes and destinations that form the backdrop of global trade.

The founder and director of the Residency, Mayaan Strauss, came up with the idea after she decided to voyage from graduate school in the US back home to Israel. Discovering that the airfare for herself and her art was astronomical, she boarded a cargo ship instead. The first body of work was based on her experiences living on the ship and now the inaugural residency has eight artists from all over the world, stopping in various ports across the globe whilst they work on the exhibition that their trip will culminate in.

'As an artist, it was interesting and thought-provoking to find myself in this environment,' says Strauss. 'First, the idea of travelling with physical commodities was conceptually challenging and inspiring. Also, spending time among a working crew, that had fixed responsibilities and operational structures, provided me with a new lens to think through my own practice and role as an artist,' she continues.

From a few thousands applicants, only seven were chosen for the six week voyage, which follows a route of their choice. This includes the Russian artist Mari Bastashevski, who will travel to Odessa, Haifa, Nhava Sheva, Port Klang, Da Chan Bay, Pusan and Shanghai; and the American artist Tyler Coburn, who is routing through New York, Norfolk and Savannah in the USA, before heading to Valencia, Tarragona, Livorno and Ashdod in Israel.

Each artist not only receives accommodation and studio space on board, but also an honorarium and production funding. The fruits of their labour will be exhibited later this year.
INFORMATION
For more information, visit the Container Artist Residency's website (opens in new tab)
Daniel Scheffler is a storyteller for The New York Times and others. He has a travel podcast with iHeart Media called Everywhere (opens in new tab) and a Substack newsletter, Withoutmaps (opens in new tab), where he shares all his wild ways. He lives in New York with his husband and their pup.