Sergiy Barchuk sets up photography print sale aiding Ukraine children's hospital
Via his Instagram platform, Ukraine-born photographer Sergiy Barchuk is selling prints of his work to raise funds for the Ohmatdyt Children's Hospital in Kyiv as the war in Ukraine intensifies. Find out how you can support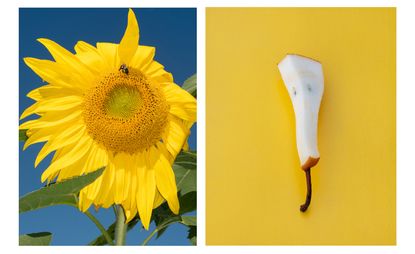 (Image credit: Sergiy Barchuk)
There's no easy way to talk about war, which is perhaps why images often resonate so strongly during difficult times as ways to record, communicate and raise awareness for those suffering. Here, Ukraine-born, New York-based photographer Sergiy Barchuk reflects on his childhood memories of Ukraine and his new Instagram print sale which will donate all proceeds to Ohmatdyt, a children's hospital in Kyiv.
Wallpaper*: The vivid blue and yellow images that reference Ukraine's flag are very powerful, particularly when paired alongside the image of you swimming with your mother as a child. What has this time been like for you?
Sergiy Barchuk: To be honest, it's been emotional and difficult. It's heartbreaking to see the violence and destruction that overtook the country. All of my childhood memories from there are very peaceful and happy (in my mind, I'm forever eight years old, sitting in a tree and eating an apple), so to see the grief there now has been painfully surreal.
W*: All proceeds from your sale will benefit Ohmatdyt in Kyiv, Ukraine's largest children's hospital. Can you tell us more about your connection with Ohmatdyt and the work they're doing?
SB: I had various health problems as a kid, so my dad took me there to get looked at. When I saw Ohmatdyt in the news my heart sank; when you recognise something from your past and then connect it with the horrible images you see on the screen, it's a sickening feeling; somehow it makes it even more real. My family members who have little kids have been able to flee the country, and we're very grateful for their safety. But of course, there are so many other children that have stayed behind and are being admitted due to injuries of war; the hospital staff there committed to staying with the patients and taking care of them. That level of commitment and sacrifice is really inspiring and moving. I just wanted to do something to support them through this time.
RELATED STORY
W*: How can readers support?
SB: I am selling some prints through my Instagram. All proceeds will go to Ohmatdyt. The other organisations that are worth checking out are Razom (opens in new tab) (Ukraine-specific humanitarian aid) and Save the Children (opens in new tab) (international humanitarian aid for children). While the conflict in Ukraine is close to my heart, there are children all over the world who need assistance. It's been amazing to see the amount of support and care that Ukraine is receiving; it gives me hope that humanity will continue to come together to support each other with all of the other issues that are facing us all.
INFORMATION
All proceeds from Sergiy Barchuk's print sale will benefit the Ohmatdyt Children's Hospital in Kyiv. For more information on how to support, visit instagram/sergiybarchuk (opens in new tab)
Sophie is currently Photography Editor at Wallpaper*. Sophie joined the team following the completion of her photography degree in 2018, and works with Photography Director Holly Hay, where she shoots, commissions, produces, and writes on photography. Alongside this, she continues her art practice as a photographer, for which she was recently nominated for the Foam Paul Huf Award. And in recognition of her work to date, Sophie was nominated by the British Journal of Photography for the Futures photography platform in 2021.
With contributions from