Designers auction works to aid humanitarian relief in Ukraine
Germans Ermičs, Sabine Marcelis, Karl Monies and Tableau are among designers in Europe who are auctioning furniture and collectible objects and donating proceeds to support humanitarian relief in Ukraine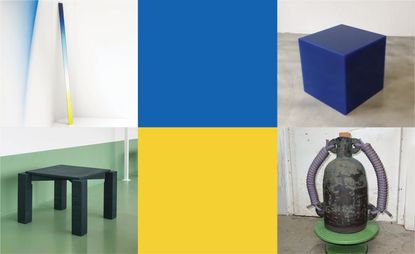 (Image credit: press)
In the face of Russia's war on Ukraine, and the terror and suffering it has unleashed, designers all over Europe are auctioning off their furniture and collectible objects in support of relief efforts.
Amsterdam-based Latvian designer Germans Ermičs, known for glass pieces with ethereal gradient hues, put up a 2021 piece, 'Blue-Yellow Mirror Beam', which bears the colours of the Ukrainian flag. The design is available for bidding on Instagram (@germansermics) through Friday, 4 March, with all proceeds going to charity and a donation receipt shared publicly.
'The war in Ukraine hits too close to home for Latvia and other Baltic countries. If Ukraine falls, I think we're going to enter a really dark era,' says Ermičs. 'The effort to protect Ukraine's independence and sovereignty will be so much bigger and more impactful if we all speak up. We need to unite across Europe to safeguard our common future.'
In Rotterdam, designer Sabine Marcelis (@sabine_marcelis) is donating one of her iconic 'Candy Cubes', cast out of translucent resin. 'All proceeds to go www.rescue.org to help those affected by this terrible conflict,' she posted on Instagram. At the time of press, six hours before the auction closes, the Prussian blue piece is going for €2,600, more than five times its base price.

Two 'Medium Glaze' mirrors by Marcelis are also available for charity auction on the Instagram profile of e-commerce platform Rira Objects (@riraobjects), to benefit Red Cross Ukraine. Rira Objects has additionally donated epoxy 'Liquidish' bowls in blue and yellow by Vincent van Rijk and glass vessels by Nienke Sikkema
to the cause.
Copenhagen-based ceramic artist and designer Karl Monies has chosen to support Unicef in its efforts to protect the safety and wellbeing of Ukraine's 7.5 million children. He has put up one of his glazed stoneware, cork and rope designs on auction on Instagram (@karl_monies) until Friday 4 March, alongside the hashtag #slavaukraini (Glory to Ukraine).
Also in Copenhagen, design studio Tableau is offering one of its 'Stacked Tables', made out of Dinesen wood offcuts and initially created for the new Connie-Connie café at Copenhagen Contemporary. Bidders are asked to post their bid on Instagram or email info@tableau-cph.com by Friday 4 March.
Monies and Tableau founder Julius Værnes Iversen are part of a wider group of Danish creatives who have created a campaign, CPH for Ukraine, which is collaborating with the Danish Red Cross. They are inviting Danish friends to donate via Mobilepay, and international friends at rodekors.dk/help. 'Our collection goes to the Red Cross' relief work in Ukraine – for protection, medical care, and very basic emergency aid for the many civilians in need,' they say.
'Tomorrow is my birthday. All I wish as a gift is a donation to CPH for Ukraine,' posted Iversen on Instagram Stories on Tuesday 1 March. 'Thank you from my heart.'
TF has been editor of Wallpaper* since December 2020. He is responsible for our monthly print magazine, planning, commissioning, editing and writing long-lead content across all our content pillars. He also plays a leading role in multi-channel editorial franchises, such as our annual Design Awards, Guest Editor takeovers and Next Generation series. He aims to create world-class, visually-driven content while championing diversity, international representation and social impact. TF joined Wallpaper* as an intern in January 2013, and served as its commissioning editor from 2017-20, winning a 30 under 30 New Talent Award from the Professional Publishers' Association. Born and raised in Hong Kong, he holds an undergraduate degree in history from Princeton University.