Sara Bastai creates surreal photography with artificial intelligence
Our Next Generation 2022 showcase shines a light on 22 outstanding graduates from around the globe, in seven creative fields. Here, we profile photographer Sara Bastai, a graduate of ECAL, Lausanne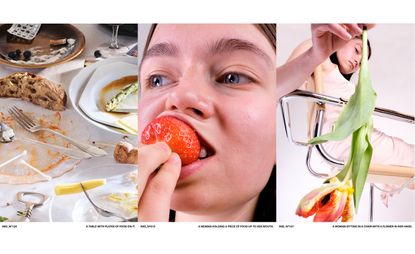 (Image credit: Sara Bastai)
Portuguese artist Sara Bastai enlists artificial intelligence as a collaborator for an unusual dialogue. In RAM_1.0, AI analyses the visual data in Bastai's photographic memories, creating new caption-like readings of images which, in turn, inform fabricated scenes.
'A woman holding a piece of food up to her mouth,' reads one of the AI interpretations. Bastai's response is a tactile image of someone with glossy skin chomping into a strawberry. 'A group of people posing for a picture' becomes strangely choreographed. The mundanity of the captioning is in humorous contrast to the subtle absurdity of the constructed works.
Talking of the process, Bastai explains that while AI is present as a curator, director and cataloguer, her own life and her friends' lives are interwoven throughout. This leads to a sense that the characters depicted are elements of her, alter-egos perhaps.
Another curious element is when AI's misinterpretation and Bastai's memories clash. For example, the data repeatedly misidentifies pink ties and toothbrushes in her memories, but Bastai makes space for it to have this power and so depicts as it dictates.
With these reimagined memories illustrating a dialogue between real life and a computational interpretation of data, Bastai draws our attention to the limitations and possibilities of us trusting technology to catalogue and share our lives.
Dream collaborators: 'For the past year, I have been quite intrigued by female artists such as Caroline Polachek, Oklou, Lykke Li, to name a few. I find their musical sensibility quite fascinating, yet an interesting challenge to draw upon for my practice. I would love to find ways to interpret and translate their musical sensations into visual environments.'
INFORMATION
Receive our daily digest of inspiration, escapism and design stories from around the world direct to your inbox
As Photography Editor at Wallpaper*, Sophie Gladstone commissions across fashion, interiors, architecture, travel, art, entertaining, beauty & grooming, watches & jewellery, transport and technology. Gladstone also writes about and researches contemporary photography. Alongside her creative commissioning process, she continues her art practice as a photographer, for which she was recently nominated for the Foam Paul Huf Award. And in recognition of her work to date, listed by the British Journal of Photography as 'One to Watch'.
With contributions from