A subtle study of Japan's inner-city serenity by photographer Roberto Badin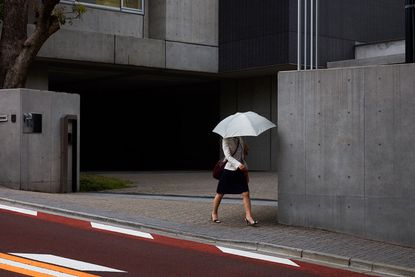 (Image credit: Roberto Badin)
Whether it's urban architecture or rural landscapes, Japan has long fascinated foreign photographers. Sealed off completely to the outside world during the Edo period (1603 – 1868) the country has retained its layers of enigma, impenetrable to those from abroad. Its urban centres, as they appear in endless photographs, amateur and professional, are always presented in the same way: chaotic, crowded, brimming with eccentric outfits and flooded by neon lights.

It's this image of Japanese urbanism that Brazilian-born still life photographer Roberto Badin confronts in his first book, Inside Japan (published with Benjamin Blanck). Badin explores the stereotype images of Japan's cities by depicting the opposite – subway stations with a solo commuter, empty hotel lobbies and silent intersections. They emanate a singular kind of inner-city serenity, unique to the nation.
The cover of Inside Japan, captured at the 21st Century Museum of Contemporary Art in Kanazawa under James Turrell's sky window
'The serenity, the calm and the value of time are codes we have lost in big occidental cities,' Badin agrees. Through his peaceful, at times solemn, images, the photographer celebrates the way architecture and light in cities like Tokyo, Osaka, Kyoto, and Kanazawa contribute to a feeling of calm and solitude – 'far from the "cliché" of the crowd of Shibuya that we often see'. There are few people in his pictures, but when they do appear, they are alone, a subtle observation of loneliness and banality, endemic in the metropolis today.

Inside Japan frames Japanese cities in an ambivalent, intimate and personal way, and is more spontaneous and intuitive than might first appear. 'When I was a child in the 1970s, most of my visual references were Japanese cartoons and television series. The internet didn't exist yet and Japan was like a distant planet that made me dream,' Badin muses. 'What fascinates me is the image as a piece of reality.'

The book launches on 22 November in Paris at Galerie Gutharc-Ballin with an accompanying exhibition of the images.
INFORMATION
Inside Japan, published by Benjamin Blanck (opens in new tab). An accompanying exhibition is on view 22-25 November at Galerie Gutharc-Ballin, Paris. For more information, visit Roberto Badin's website (opens in new tab)
ADDRESS
Gallery 7 rue Saint Claude
75003 Paris
VIEW GOOGLE MAPS (opens in new tab)
Charlotte Jansen is a journalist and the author of two books on photography, Girl on Girl (2017) and Photography Now (2021). She is commissioning editor at Elephant magazine and has written on contemporary art and culture for The Guardian, the Financial Times, ELLE, the British Journal of Photography, Frieze and Artsy. Jansen is also presenter of Dior Talks podcast series, The Female Gaze.