Robert Irwin drenches Kraftwerk's industrial halls in fluorescent light
Robert Irwin's major site-specific installation Light and Space is on view at Kraftwerk Berlin until 30 January 2022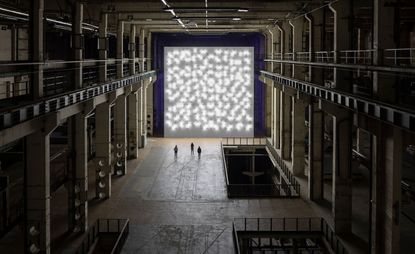 (Image credit: © Photo: Timo Ohler. VG Bild-Kunst, 2021)
The hallowed, industrialist halls of Berlin's Kraftwerk have seen a great deal over the years, but, until now, they have never experienced the work of acclaimed Light and Space artist Robert Irwin, and it turns out they're quite the match.

Formally the Berlin-Mitte thermal power station, Kraftwerk was built around the same time as the Berlin Wall in 1961 and served as the then-East Berlin power station until 1997. In 2006, after lying abandoned for years, it was resurrected as techno club Tresor.

The American artist is currently saturating this vast arena with Light and Space (Kraftwerk Berlin), his largest installation in Europe to date, on view until 30 January 2022. The project was commissioned by Berlin-based LAS (Light Art Space), a non-profit art foundation working at the intersection of art, new technology and science. Though nascent, the foundation is rapidly securing a reputation for technology and science-rich projects staged within iconic spaces, most recently with Berl-Berl, Jakob Kudsk Steensen's VR ode to wetland ecosystems at Berlin's Halle am Berghain. Elsewhere in the city, Irwin is staging a solo show at Sprüth Magers (on view until 26 March 2022) featuring ethereal lighting artworks and monolithic sculptures.
Shortly after LAS was founded, co-director Bettina Kames travelled to the US to meet Irwin who was invited to conceive a new commission in Berlin. 'Without an exhibition or a single project in [LAS's] portfolio, Irwin accepted the invitation and took the plunge!' explains Amira Gad, head of programmes at LAS and curator of Irwin's show.
Irwin is a central figure of the radical Light and Space movement which emerged in 1960s California. This futuristic wave of art, characterised by light experiments, science-infused optical manipulations and the reimagining of environments, sought to challenge human perceptions, and utilise the new array of materials and technologies that emerged in the mid-20th century.
Irwin's seminal contribution involves site-conditioned artworks that use the effects of light to expand, warp and saturate the senses. As the artist said in 1986: 'My ambition is, in a sense, to make you see a little bit more tomorrow than you saw today.' The movement – past and present – is currently being explored in-depth at Copenhagen Contemporary, featuring work by Anish Kapoor, Ann Veronica Janssens, Bruce Nauman, Helen Pashgian, James Turrell, Judy Chicago, Larry Bell, Olafur Eliasson and Robert Irwin.

Irwin began his Light and Space series in 2007, characterised by fluorescent light tubes arranged in rhythmic yet cryptic patterns. This new iteration at Kraftwerk involves several firsts: it's Irwin's largest to date, staged on a monumental freestanding wall measuring 16m x 16m. The work uses blue fluorescent lights in combination with the artist's traditional white, and, in another diversion from convention, Irwin's piece for Kraftwerk is double-sided, allowing the space to be saturated in light from all angles. 'The design of the concept had to be fit for a building that is iconic, of that scale,' Gad continues. 'It had to be an installation that would feel monumental but also feel embedded within the architecture. In a way, it's about giving "power" back to the former power station.'
INFORMATION
'Robert Irwin: Light and Space (Kraftwerk Berlin)', until 30 January 2022. lightartspace.org
Irwin's solo show at Sprüth Magers Berlin runs until 26 March 2022. spruethmagers.com
ADDRESS
Köpenicker Str. 70
10179 Berlin
Harriet Lloyd-Smith is the Arts Editor of Wallpaper*, responsible for the art pages across digital and print, including profiles, exhibition reviews, and contemporary art collaborations. She started at Wallpaper* in 2017 and has written for leading contemporary art publications, auction houses and arts charities, and lectured on review writing and art journalism. When she's not writing about art, she's making her own.