Robert Irwin mesmerises with all things bright at White Cube
Robert Irwin mesmerises with all things bright at White Cube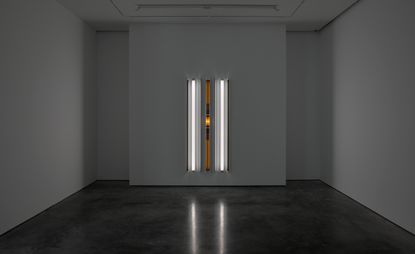 (Image credit: Ben Westoby)
Having just marked his 87th birthday, American artist Robert Irwin has touched down in London for his latest solo exhibition at White Cube's Bermondsey outpost. The show, entitled '2 x 2 x 2 x 2', unites three different bodies of work, including fluorescent tubes, a diptych and a pair of transparent plastic columns.

A pivotal member of the Light and Space movement (opens in new tab), which originated in the West Coast, Irwin molds light but not as you would expect it. Leading the exhibition, the artist presents a sequential series of coloured fluorescent lights, placed vertically along the wall. Measuring 7 x 8 feet each, they are cocooned in hued gels, the sparse offering of colour immediately drawing the eye in.

Nearby, a new diptych – Black Painting (2015) – has notes of Josef Albers and Barnett Newman, but reads more like a tribute to Kazimir Malevich's 1913 piece, Black Square. Reflective lashings of urethane paint and lacquer on honeycomb aluminium both mirror the viewer while drawing them into a sinister abyss - there's a curiousness to this contradiction.

White Cube's 9 x 9 x 9 gallery, meanwhile, holds court to a ghostly duet of crystal-clear acrylic columns. Although supposedly conceived as early as 1969, the works look hyper-futuristic in the pristine white space. Irwin has described his columns as perching sitting 'on a delicate edge', adding: 'You don't think about whether it's art or not art. It's just about what you're seeing or not seeing.'

Irwin's immaculately conceived works offer a perfect foil to Cerith Wyn Evans' frenetic neon designs in the adjacent South Galleries. These two wildly differing shows form a fascinating symbiosis that brings light into sharp relief.
INFORMATION
'2 x 2 x 2 x 2' runs until 15 November 2015
ADDRESS
White Cube Bermondsey (opens in new tab)
North Galleries
144-152 Bermondsey Street
London SE1 3TQ
VIEW GOOGLE MAPS (opens in new tab)