Glow with the flow: Cerith Wyn Evans sets White Cube Bermondsey alight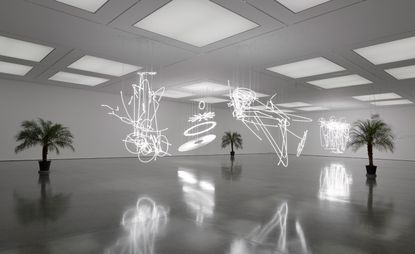 (Image credit: © The artist and White Cube. Photography: George Darrell)
A fantastical force is coursing through White Cube Bermondsey's South Gallery, which is hosting new works by the Welsh conceptual artist Cerith Wyn Evans this autumn.

The artist found an inspirational spark in the flow of energy in conduits (both material and immaterial), circuitry and choreology. To that end, the site-specific intervention comprises a dazzling ballet of neon pieces, spinning palm trees, a sound sculpture and a Morse code lighting installation.

Taking centre stage, an arrangement of three neon sculptures cuts vividly through air, borrowing movements from traditional Japanese Noh theatre (opens in new tab). These new works hark back to Evans' earlier sculptures, tracing a complex medley of gestures, motions and shapes in light.

A fourth neon piece, The Illuminating Gas…(after Oculist Witnesses), uses Marcel Duchamp's The Bride Stripped Bare by Her Bachelors, Even (1915-23) as a springboard. A skewed trio of vast neon discs echoes Duchamp's artwork (opens in new tab), projecting it into multi-dimensional objects.

Meanwhile, an otherworldly soundtrack reverberates through the space, emitted from a large sculpture made up of 19 'breathing' glass flutes. Each flute, connected to a long tube suspended from the ceiling, is mechanically operated, exhaling a breath-like sound. In an adjacent corridor, the artist has hacked one of the existing light fixtures to broadcast a message in Morse code, narrating the transit of the moon during a solar eclipse.

Palm trees, perched atop rotating on turntables, punctuate the space. These tropical carousels conjure an unexpected natural counterpoint to the stark, artificial glow of the neon sculptures – just one of Evans' many bright ideas.
INFORMATION
Cerith Wyn Evans' exhibition runs until 15 November 2015
ADDRESS
White Cube Bermondsey (opens in new tab)
South Galleries
144-152 Bermondsey Street
London SE1 3TQ
VIEW GOOGLE MAPS (opens in new tab)