Meet emerging artists from Oppo Renovators 2021 Project
Technology innovator Oppo announces the winners of its Renovators 2021 emerging artists project and says, 'Everyone can be, and is, an artist'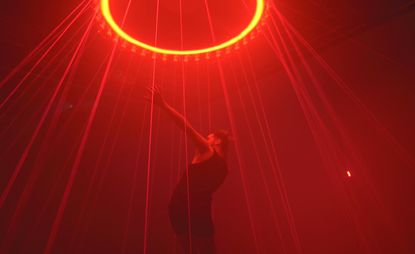 (Image credit: campus.oppo.com)
In partnership with Oppo
Nurturing the concept of technology as an art form, the Oppo Renovators Project for emerging artists – the initiative of smartphone innovator Oppo, its name inspired by the brand's Reno series phone – launched in 2019. Here, we showcase works by the project's 2021 winners and outstanding entrants.

The project's message? Designers and artists are no different from everyone else. Everyone should leverage the power of technology, facilities, materials and creative talent to bravely express themselves. Everyone can be, and is, an artist.
Oppo: pursuing technological artistry
Ever since the launch of its first, Smiley Face mobile phone, in 2008, Oppo has pursued the perfect synergy of aesthetic satisfaction and innovative technology. On a mission to elevate life through technological artistry, while striving to be a sustainable company contributing to a better world (the brand was one of the first to join a pan-industry Eco Rating labelling scheme, in May 2021, to give transparency to customers), the technology company now provides a wide range of devices – from earphones to a watch and a fitness band – spearheaded by the Oppo Find and Reno phone series.
Oppo Renovators 2021 Emerging Artists Project: the brief
For its 2021 Renovators project, working with the theme of light, Oppo created two categories, Art Tech and Art Toy. For Art Tech, Oppo encouraged participants to submit conceptual proposals, creative research, and ideas for business incubation that would bring together the worlds of art, science and technology. The Art Toy track found Oppo encouraging participants to tender artworks based on the concept and image of Oppo's mascot Ollie – a virtual guardian of emerging artists' dreams.

The project saw 3,345 individual entries submitted by emerging artists based in 40 countries. Topics included technology, humanity, environmental protection, biology, history, social interaction, and current trends, while the works produced spanned digital media, interactive experiences, stage installations, wearable devices, and biological and material designs.

Through their submissions – including outstanding pieces that were showcased at London Design Festival 2021 in September – the emerging artists demonstrated their distinct views on a wide range of issues, reflecting the connection between humans, technology and nature, and how technology and art can create a better future for all.
Meet winners and outstanding artists
Explore works by some of the winners and outstanding entrants of the Oppo Renovators Emerging Artists Project 2021 below. Wallpaper* took the opportunity to talk to some of the talents, asking each of them what inspired them to become an artist, as well as if they see themselves as an artist.
Chengxiu Yin
Work: Point to Planet: perceiving nature with light (in collaboration with Hengyue Zhao)
Winner: 2021 Artistic Creativity Award
'I'm currently studying at the School of Design at the Central Academy of Fine Arts [in Beijing]. Studying art has improved my taste and eye for design, but right now, I don't see myself as mature enough to be called an artist. Being called an "artist" is just a label – my hope is for my work to receive more attention and recognition so that other people see me as an artist.'
Xinyi Zhao
Work: Dreamcatcher
Winner: 2021 Future Design Award
'I've studied art for 17 years now, and I've been creating art for almost four years. My friends and relatives around me usually describe me as "an excellent student", "good at my job", and someone who "creates beautiful art", but no one thinks of me as an artist. I don't consider myself an artist either, because I have not reached the level of an artist, so I call myself a designer.'
Jelle Valk – WERC Collective
Work: AR Graffiti
Winner: 2021 Creative Excellence Award
'I was inspired to be an artist by my great grandfather, who was a sculptor. I liked the quiet environment, and the artistry is just right for me, so it was a natural fit.'
Liang Xiao
Work: Autonomy of Plants
Winner: 2021 Creative Excellence Award
'When I exhibited in London in 2018, I was already communicating with the audience as an artist. Identifying in this way felt natural and extremely positive, I felt completely awakened spiritually! After my parents saw the change in me, they became really supportive of my decision to pursue art professionally.'
Peter William Holden
Work: AutoGene
Winner: 2021 Creative Excellence Award
'The moment that one defines oneself as an artist is the moment one becomes an artist, and what you do after that results in whether society defines you as an artist. I realised I was an artist shortly after I moved to Germany [from the UK], but at that time, without parental support and financial resources, I faced a difficult situation. I remember one time when I had just finished a kinetic sculpture and the only money I had was to buy food or pay the exhibition fee for the sculpture. I chose to pay the exhibition fee without hesitation! I'm not sure if I'm an artist.'
Petko Tanchev
Work: Stems
Winner: 2021 Shortlist Award

'I'm an artist by nature. Making art allows me to be myself and to use my mind and skills to shape things, and I love that freewheeling lifestyle. My mother is also an artist, and we often discuss our creations together.'
Noriyuki Suzuki
Work: *
Winner: 2021 Shortlist Award

'I've actually been calling myself an artist for 15 years, but I still don't feel quite qualified. I love reading stories in all forms – they were my refuge when I was young and my inspiration for making art. My parents sponsored me to finish art college in Japan, and I'm now based in Germany where I make art.'
Youhong (Friendred) Peng
Work: Skin-awareness
Winner: 2021 Shortlist Award
'I loved sketching when I was young. At the time, this was art to me. Years later, I saw the "Rain Room" exhibition [by Random International at Yuz Museum Shanghai in 2015), which completely changed my understanding of art, so I started to go to metal workshops for inspiration and to try to make art. My family didn't support me to study art – they didn't see the value in it – but I finally went to London to study on my own. Now I am teaching in London and have my own studio. I'm not really an artist.'
Daniel Karaj
Work: Cymatic Projections
Winner: 2021 Shortlist Award
'My family has always encouraged a balance between the technical and the creative. I don't think it's necessary to be a full-time artist with big physical works. Alongside art I have also worked at Google as a software engineer.'

From conversations with the entrants, we can conclude that artists are no different from the rest of us. They have joys, worries, and are moved by the world around them. Becoming an artist, to express our emotions and create from the things we perceive around us, requires bravery. With this courage, there's an artist in all of us waiting to be discovered.
Oppo Renovators 2021 Project: full list of interviewed artists
AR Graffiti, by Jelle Valk – WERC Collective , 2021 Creative Excellence Award
AutoGene, by Peter William Holden, 2021 Creative Excellence Award
Autonomy of Plants, by Liang Xiao, 2021 Creative Excellence Award
Cymatic Projections, by Daniel Karaj, 2021 Shortlist Award
Point to Planet: perceiving nature with light, by Hengyue Zhao & Chengxiu Yi, 2021 Artistic Creativity Award
Dreamcatcher, by Xinyi Zhao, 2021 Future Design Award
Light High, by Jacqueline Hen, 2021 Best Performance Award
Stems, by Petko Tanchev, 2021 Shortlist Award INSIDE / OUTSIDE, by Dariusz Makaruk, 2021 Shortlist Award
Parasite 寄, by Yajun Shi, 2021 Best Performance Award
Skin-awareness, by Youhong (Friendred) Peng, 2021 Shortlist Award
Splice, by Yiming Yang, 2021 Shortlist Award
Xiang Phase, by Haozhe (Seph) Li, 2021 Shortlist Award
*, by Noriyuki Suzuki, 2021 Shortlist Award
INFORMATION
Receive our daily digest of inspiration, escapism and design stories from around the world direct to your inbox