White Cube at Arley Hall: contemporary sculpture meets the English country house garden
White Cube's first outdoor sculpture exhibition puts the work of 12 modern and contemporary artists, including Tracey Emin, Antony Gormley and Danh Vo, on view in the grounds of Cheshire's Arley Hall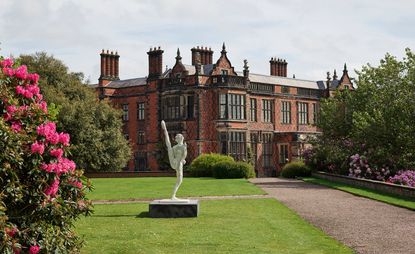 (Image credit: © White Cube (Theo Christelis))
Arley Hall and Gardens, a stately home in Cheshire, north-west England, is famed for its Jacobean Revival architecture and its picturesque landscape, created over 270 years by successive Viscounts Ashbrook and their families. To these attractions, it can now add an impressive display of contemporary sculpture, courtesy of White Cube.
The London- and Hong Kong-based gallery has selected Arley's grounds as the venue for its first-ever outdoor sculpture exhibition, which includes 12 modern and contemporary artists from its roster, and runs until 29 August 2022.
'At the same time as being a symbol of continuity, history and stability, gardens are continually changing and evolving,' says Susanna Greeves, senior director at White Cube of her inspiration for the display. 'This is a theme that we had in mind as we took on the task of placing contemporary art in this already very carefully curated setting. We thought about the ideas of nature and order, the tropes of the English country house garden, and how we might play with and subvert those.'
Among the more ambitious installations is Tracey Emin's Surrounded by You (2017), initially created for the artist's solo exhibition at Château La Coste and inspired by Mont Sainte-Victoire, not far from the Provençal art destination and a recurring subject of Cezanne's paintings. Seen from another angle, it bears a resemblance to a reclining female nude, a signature Emin motif. Its alternately monumental and sensual form is not an easy match for the pristine hedges and manicured lawns adjacent, but it makes a memorable statement nonetheless.
Similarly impressive in scale, the late Greek artist Takis' kinetic sculpture, Aeolian (1983), measuring 4.5m tall, towers over a field of wildflowers. At the top, a pair of hemispheres rotate gently on an axis, suggesting a modern radar picking up signals from afar and disrupting our vision of rural idyll.
Beyond an untitled cedar pavilion by Danh Vo (2020) – a modernist version of Qin Dynasty architecture, which previously stood outside White Cube's gallery in Bermondsey, London and has been integrated into its new home with planting by Arley's gardeners – it's the smaller works that better respond to the present landscape.
Notably, a trio of Antony Gormley's anthropomorphic Domain sculptures (2003), made from stainless steel bars that terminate at the perimeter of the body, perch on 17th-century garden walls, appearing and fading with changing weather conditions in a poetic ode to transience.
Classical statuary is often placed where it might draw attention to a fully orchestrated view; in a prime spot along Arley's Furlong Walk, where one might expect a nymph, Greeves has installed a radical work by Canadian artist David Altmejd. L'heure (2016) depicts a figure in contrapposto whose head is formed of hands cast from the sculptor's own: 'It's almost as if the sculpture is making itself or unmaking itself,' says Greeves.
Equally well-situated is a recent example of Marguerite Humeau's 'sculpture-elixirs' – imagined plants that are intended to resurrect bygone medicinal traditions. Greeves has placed it near Arley's Kitchen Garden: 'I liked the idea that it refers to an earlier tradition of the great house growing medicinal plants,' she says. The full title of the work is as evocative as its placement: Noxcalidus, The intense heat on the skin of a sleeping person, as if all their secret delusions were becoming vapour. Inspired by the Poppy's milk that induces deep sleep and intense dreams, and connects us to a primordial consciousness or cosmic times (2022).
Meanwhile, Mona Hatoum's Inside Out (concrete) (2019), a waist-height spherical work covered in a circuitous pattern that resembles the lobes of the brain, occupies a small clearing in The Grove (an informal garden in a woodland setting), as though an alien seed pod about to take root.
A large swathe of The Grove is dedicated to the work of Isamu Noguchi, represented by White Cube since 2021. Glistening gently in the summer sun, each of the sculptures in hot-dipped galvanised steel has an alluring silhouette, ranging from the majestic peaks and valleys of Rain Mountain to the Venus of Willendorf-like Goddess (both 1982-3). But the star of the show is the bright red Play Sculpture (c.1965-80). Around the 1970s, the Japanese-American sculptor had the idea of connecting standard sections of industrial sewer pipe into an undulating loop. The results are whimsical and striking, and just as Noguchi intended, visitors to Arley are invited to clamber around, or otherwise sit on the structure for a spot of rest. Dynamic in form and democratic in spirit, this is White Cube at Arley Hall at its best.
INFORMATION
White Cube at Arley Hall runs until 29 August 2022, whitecube.com (opens in new tab), arleyhallandgardens.com (opens in new tab)
TF has been editor of Wallpaper* since December 2020. He is responsible for our monthly print magazine, planning, commissioning, editing and writing long-lead content across all our content pillars. He also plays a leading role in multi-channel editorial franchises, such as our annual Design Awards, Guest Editor takeovers and Next Generation series. He aims to create world-class, visually-driven content while championing diversity, international representation and social impact. TF joined Wallpaper* as an intern in January 2013, and served as its commissioning editor from 2017-20, winning a 30 under 30 New Talent Award from the Professional Publishers' Association. Born and raised in Hong Kong, he holds an undergraduate degree in history from Princeton University.