James Turrell lights the way at Museo Jumex
The California-born artist shows his true colours at the David Chipperfield-designed museum in Mexico City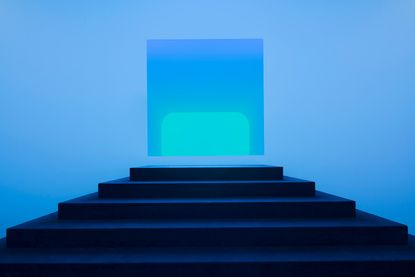 (Image credit: Florian Holzherr)
Ushers prepare museumgoers for possible hallucinations and disorientation, before guiding them through an unlit corridor. A black, pyramidal staircase becomes visible and leads to a glowing room. Viewers, allowed into the space in groups of six, are enveloped in neon and the light sequence begins. As one color shifts to the next, the edges of the space fade leaving no discernible horizon or points of focus for the mind to latch onto. Up and down? Left and right? They disappear, too.
The installation is James Turrell's latest Ganzfeld – a German term that describes the complete loss of depth perception – and part of 'Passages of Light', a two-floor exhibition and homage to the acclaimed American artist at Mexico City's Museo Jumex. It seems especially fitting to see a survey of Turrell's work at one of the country's leading contemporary art institutions.
Not only does Turrell draw inspiration from archaeological sites like the Mayan pyramids, but in Mexico, mankind's connection to the position of the sun, moon and stars can be traced back to its earliest civilisations. Throughout history and regardless of culture or ideology, humans have attributed significance – both literal and metaphorical – to light, and that storied relationship is central to Turrell's practice.
After Amesha Spentas, the opening work, visitors are directed to the second floor. Installations alongside sketches, photographs, holograms and models form a retrospective of the artist's work from the 1960s through to present day. Ample documentation of Roden Crater also provides a more in-depth examination of the large-scale artwork that is expected to be his crowning achievement. Turrell has been developing the project, a hollowed-out and repurposed inactive volcano in Northern Arizona, for nearly half a century – but it has yet to open to the public.
Of those which are accessible, Turrell's most impressive works are arguably his permanent installations, which span 29 countries and often occupy obscure locations such as a Quaker meeting place in Houston, Texas and a winery in Argentina. It is perhaps ambitious then to provide an overview of the artist in a museum setting (beyond the difficulty of simply preparing for and assembling the works, a process which took the Jumex the better part of two years).
Entrance is limited only at a Wedgework, where projected light constructs illusory walls or barriers, and the Ganzfeld space. These installations, two of four created specifically for the exhibition, offer the opportunity for the introspective meditation that Turrell tends to foster. Elsewhere, interacting with pieces that are intended to be deeply contemplative can be made challenging by the movement and chatter of museumgoers and staff.
Turrell and Museo Jumex do, however, attempt to create a more intimate experience between the viewer and the art in other ways – photography and videography are strictly prohibited so that visitors see the pieces with their own eyes rather than through a screen. 'My work is about looking at the world,' Turrell told his hometown paper, the Los Angeles Times, in a 1989 interview. 'I don't presume to tell you how to look at the world, but artists do offer tips and give you a vantage on the world.'
INFORMATION
'James Turrell: Passages of Light', until 29 March 2020, Museo Jumex. fundacionjumex.org (opens in new tab)
ADDRESS
Museo Jumex
Miguel de Cervantes Saavedra 303
Colonia Granada
11520 Mexico City
James Burke is an arts and culture writer and photographer based in Marfa, Texas. Together with Molly Mandell, he authored the 2018 book Made in Cuba and has contributed to the likes of The Los Angeles Times, Vogue Mexico and of course, Wallpaper*. Outside of editorial work, the duo is developing a multi-disciplinary residency program that provides a dedicated space to explore U.S.-Mexico border culture and the Chihuahuan desert through the lens of art, architecture, food, science and design.
With contributions from