Pioneering pictures: 'Julia Margaret Cameron' at the V&A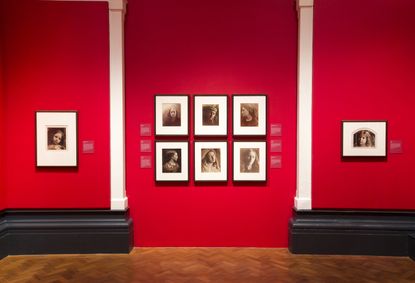 (Image credit: TBC)
London's V&A is celebrating the 200th anniversary of the birth of pioneering photographer Julia Margaret Cameron by hauling out more than 100 of her photographs from its collection.

The V&A was the only museum to present her work while she was still alive and had a unique relationship with Cameron. She received her first camera as a gift in 1863 when she was 48 but was instantly fascinated by the possibilities of the new technology. Within two years she was selling her work and donating her photography to what was then the South Kensington Museum. In 1868, the museum offered her two rooms to use as a photography studio and she became a de facto artist in residence.

In 16 years Cameron produced 1,200 photographs – no easy feat when photography still required huge wooden boxes and splashing about with nasty chemicals (though, being a lady of means, however wilfully bohemian, she had staff). In that time, Cameron re-defined portrait photography, as much as it had been defined – taking intimate portraits of notables in her circle, including Alfred Lord Tennyson, Robert Browning, Thomas Carlyle, Charles Darwin, Anthony Trollope, the astronomer Sir John Herschel, who may or may not have first used the term 'photography', and Julia Jackson, her niece and Virginia Woolf's mother. She also recreated biblical, Shakespearean, mythical and historical scenarios, which have perhaps aged less well.

Cameron had not just a remarkable sense for composition but was hugely experimental, shooting intentionally out of focus and leaving scratches and smudges on her prints for affect. Her most famous portrait, Iago – a tight-in head shot of a popular Italian painter's model – is startlingly modern, and not just because of his high-cheekbones, rock star hair and stubble. The exhibition also includes an illuminating selection of letters to the V&A's founding director Henry Cole, as well as Cole's diary from 1865.

The exhibition is part of a series of events celebrating Cameron's bicentenary, that also includes 'Julia Margaret Cameron: Influence and Intimacy' at the Science Museum's Media Space.
INFORMATION
'Julia Margaret Cameron' is on view at the V&A until 21 February 2016. For more information, visit the V&A's website (opens in new tab)
ADDRESS
Victoria & Albert Museum
Cromwell Road
London, SW7 2RL
VIEW GOOGLE MAPS (opens in new tab)