Pictures from Home: photographer Larry Sultan's domestic drama arrives on Broadway
Winner of 'Best Adaptation' in the 2023 Wallpaper* Design Awards, Pictures from Home at Studio 54 brings the memoir of American photographer Larry Sultan to Broadway, starring Nathan Lane, Danny Burstein and Zoë Wanamaker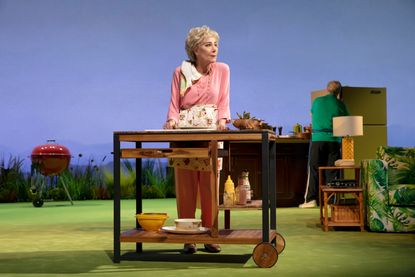 (Image credit: Julieta Cervantes , 202 3)
American photographer Larry Sultan, who died in 2009, depicted California-fied suburban family life through staged documentary imagery. For his celebrated 1992 memoir, Pictures from Home, he spent almost a decade photographing the lives of his parents as they journeyed from Brooklyn to California's San Fernando Valley.
Sultan's scenes of bright green plush carpets and palm trees, and their accompanying oral histories, have now gone on to inspire a stage adaptation, starring Nathan Lane, Danny Burstein and Zoë Wanamaker.
Larry Sultan's Pictures from Home
Now on at Studio 54, the Broadway theatre occupying the site of its namesake club, the show features a set by designer Michael Yeargan, and promises to 'evoke memories of childhood, parenthood and the hard-won wisdom that comes with both'.
'It's a memory play. It takes place in a big empty room and then sort of comes to life,' says Lane, who plays Sultan's father. Playwright Sharr White adds that reimaginings of Sultan's interactions with his parents will shine a light on questions around 'ownership of an image, and who gets to own the family narrative'.
The Broadway production is just one of the many innovative ways in which Sultan's widow Kelly has been preserving and amplifying his legacy. To date, she has overseen an expanded reprint of the book, and a series of dynamic solo and group shows across Europe, Asia and Oceania, while this year will see the publication of the photographer's Swimmers series (1978-82), inspired by a Red Cross swimming manual.
'In all our engagements with Larry's work, we are instructed by his humour and playfulness, his love of experimentation and pushing boundaries,' says Kelly. 'We are exploring new, creative ways to allow the public to engage with Larry's archive.'
'Pictures from Home' runs from 9 February-16 April 2023 at Studio 54, Broadway, New York. larrysultan.com (opens in new tab), picturesfromhomebroadway.com (opens in new tab)
An exhibition of the series will be on view at Yancey Richardson Gallery, New York from 23 February - 8 April 2023. yanceyrichardson.com (opens in new tab)
Sophie is currently Photography Editor at Wallpaper*. Sophie joined the team following the completion of her photography degree in 2018, and works with Photography Director Holly Hay, where she shoots, commissions, produces, and writes on photography. Alongside this, she continues her art practice as a photographer, for which she was recently nominated for the Foam Paul Huf Award. And in recognition of her work to date, Sophie was nominated by the British Journal of Photography for the Futures photography platform in 2021.