'Ageing bodies and failing forms': Torbjørn Rødland's new Zurich photography show
'Old Shep' at Galerie Eva Presenhuber sees Norwegian photographer Torbjørn Rødland explore themes of time in a visual blend of nordic noir and American pop culture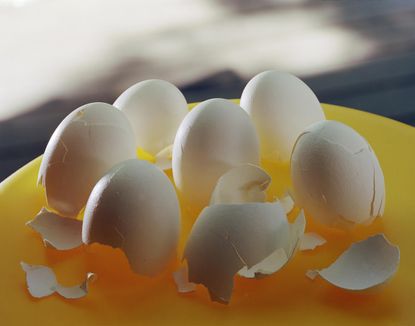 (Image credit: Courtesy the artist and Galerie Eva Presenhuber, Zurich / New York / Vienna © the artist)
Titled 'Old Shep', photographer Torbjørn Rødland's new show references the melancholic Elvis Presley song of the same name, and circles around the theme of time. Exhibited at Galerie Eva Presenhuber in Zurich, Rødland's fourth solo show with the gallery focuses, as he tells us, on 'ageing bodies and failing forms'. 'They're seen weakened, bent, broken, fallen – while coexisting with new forms and budding life.'
It was the purchase of a box of retired bowling pins back in 2019 that sparked 'Old Shep's conception. A couple of years passed before Rødland stumbled across the right scene to create Nine Pins and a Chair, one which now forms a centrepiece of sorts for the series. The obscure yet constructed scene of decaying familiar objects and sliced tree stumps conveys a sense of the macabre in the parched landscape.
Exploring the rest of the series, symbols and tropes are subtly warped, as is typical in Rødland's work. Born in Norway but long settled in Los Angeles, Rødland's perspective combines nordic noir with American pop culture.
References to classical art history and the divine are touched upon too through vanitas symbolism, a mother and child for example, as her breasts drip milk onto her baby's cherub-like cheek.
Rødland infuses these works with an awareness of our contemporary landscape of relentless image consumption; to fully digest the images viewers must linger, no matter how much a sense of disconcertion might build. Together this creates a stretch across the theme of time, crossing the beginning and end of life.
Bathed in Rødland's signature backlighting, the show offers a sense of unease that's tangible in texture: the wrinkled skin, dog fur, petals and broken egg shells.
Torbjørn Rødland, 'Old Shep', until 11 March 2023, Galerie Eva Presenhuber, Zurich. presenhuber.com (opens in new tab)
Sophie is currently Photography Editor at Wallpaper*. Sophie joined the team following the completion of her photography degree in 2018, and works with Photography Director Holly Hay, where she shoots, commissions, produces, and writes on photography. Alongside this, she continues her art practice as a photographer, for which she was recently nominated for the Foam Paul Huf Award. And in recognition of her work to date, Sophie was nominated by the British Journal of Photography for the Futures photography platform in 2021.