'Avedon 100': cultural stars reflect on the photographer's boundary-shattering legacy
In a new Gagosian exhibition, 'Avedon 100', marking the centenary of Richard Avedon's birth, leading cultural figures – from Naomi Campbell to Spike Lee – share personal stories on the photographer's remarkable career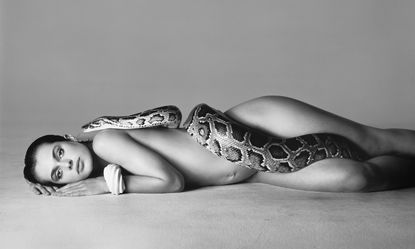 (Image credit: © The Richard Avedon Foundation Courtesy Gagosian)
Few figures could unite the likes of Hilton Als, Naomi Campbell, Elton John, Spike Lee, Sally Mann, Polly Mellen, Kate Moss, Chloë Sevigny, Taryn Simon, Christy Turlington, and Jonas Wood in shared admiration.
But Richard Avedon has, albeit posthumously, in a new exhibition at Gagosian, New York. 'Avedon 100' invited almost 150 acclaimed cultural movers and shakers to select an Avedon photograph and share a personal story of their connection to the image and the artist on the centenary of his birth.
The enormity of Avedon's influence can be seen across photography today; how he put personality front and centre, how he distilled his subjects, while always understanding 'All photographs are accurate. None of them is the truth…I'm not interested in the truth.'
This openness to complexity is evident in the evolution of his aesthetic approach throughout his career, from his contrast-heavy portraits, the In the American West series, his records of the social justice movement, as well as his boundary-breaking fashion photography; all of which have inspired new generations of artists to be open, connect with their subjects, and most importantly to take risks.
Avedon's stories demonstrate his ability to peel back the polished veneer of world leaders, collaborate with models to create theatre within a moment and tell stories about injustices. But the common thread throughout these eclectic themes and approaches is how working with Avedon became an education for those lucky enough to have met him – his was a power to draw out our own creative desires.
Together, these inspiring, entertaining and thoughtful reflections on Avedon's life and work form a visual and anecdotal chorus demonstrating his power to form wide-ranging cultural touchpoints that go far beyond their originator.
'Avedon 100' is on view at Gagosian 522 West 21st Street, New York, until 24 June 2023. gagosian.com
Sophie is currently Photography Editor at Wallpaper*. Sophie joined the team following the completion of her photography degree in 2018, and works with Photography Director Holly Hay, where she shoots, commissions, produces, and writes on photography. Alongside this, she continues her art practice as a photographer, for which she was recently nominated for the Foam Paul Huf Award. And in recognition of her work to date, Sophie was nominated by the British Journal of Photography for the Futures photography platform in 2021.